For sale is my 1989 325i race car with an M52B28 swap, E30 M3 5-lug with AST coilovers, DTM-style rear suspension, full aero package, 6+2 roll cage, and many mods. I have owned this car since February 2022. Too many cars // not enough time means this one has not been getting much attention, and it deserves a new home.
The car is ready to race in SCCA, NASA, BMWCCA, GridLife, SVRA, VDCA, ChampCar, WRL, just about anything. It has an excellent 6+2 roll cage, one of the nicest I have seen in an E30. All safety equipment is current & in date. The car has been approved to have a NASA logbook, but I haven't finished the process since I haven't brought it back to the track recently. It previously held a BMWCCA logbook. The car is track-ready, with fresh fluids and brakes. Ready for a full season of racing, time trials, or HPDE track days.
The car will come with some basic spares, mainly stuff specific to the M52 that I won't need any longer (coils, DME, MAF, etc.). I have upwards of 8 sets of 15" wheels to fit the car, as well other spares including brake rotors and pads, that can be negotiated as part of the deal, depending on what you need.
The body has been resprayed BMW Space Grey. It's a good paint job, but not perfect. Has some chips, scratches, and panel misalignments. Interior, door jambs, engine bay, and trunk are all Zinnoberot (red). Has some minor surface rust near the battery tray and trunk jack tray, and on the underside of the floor pans – nothing major. The body has been banged up and repaired in the past, as is typical with race cars. There are waves in the front radiator/core support and frame rails forward of the subframe. The car aligns and tracks straight.
Located in Charlotte, NC. Asking $17,100. Open to negotiation after you see the car in person. The car comes with a North Carolina bill of sale and a clean Georgia title in the previous owner's name. I can deliver within 2 hours. Please contact e30racer4sale@gmail.com to inquire.
Highlights include: M52B28 swap w/ M3 cams, E30 M3 suspension and brakes, IRP "DTM" style rear trailing arm camber and toe adjusters, Bimmerworld V3 carbon wing paired with quick release front splitter, excellent roll cage design. Ready to race.
Full modifications list is down below the photos.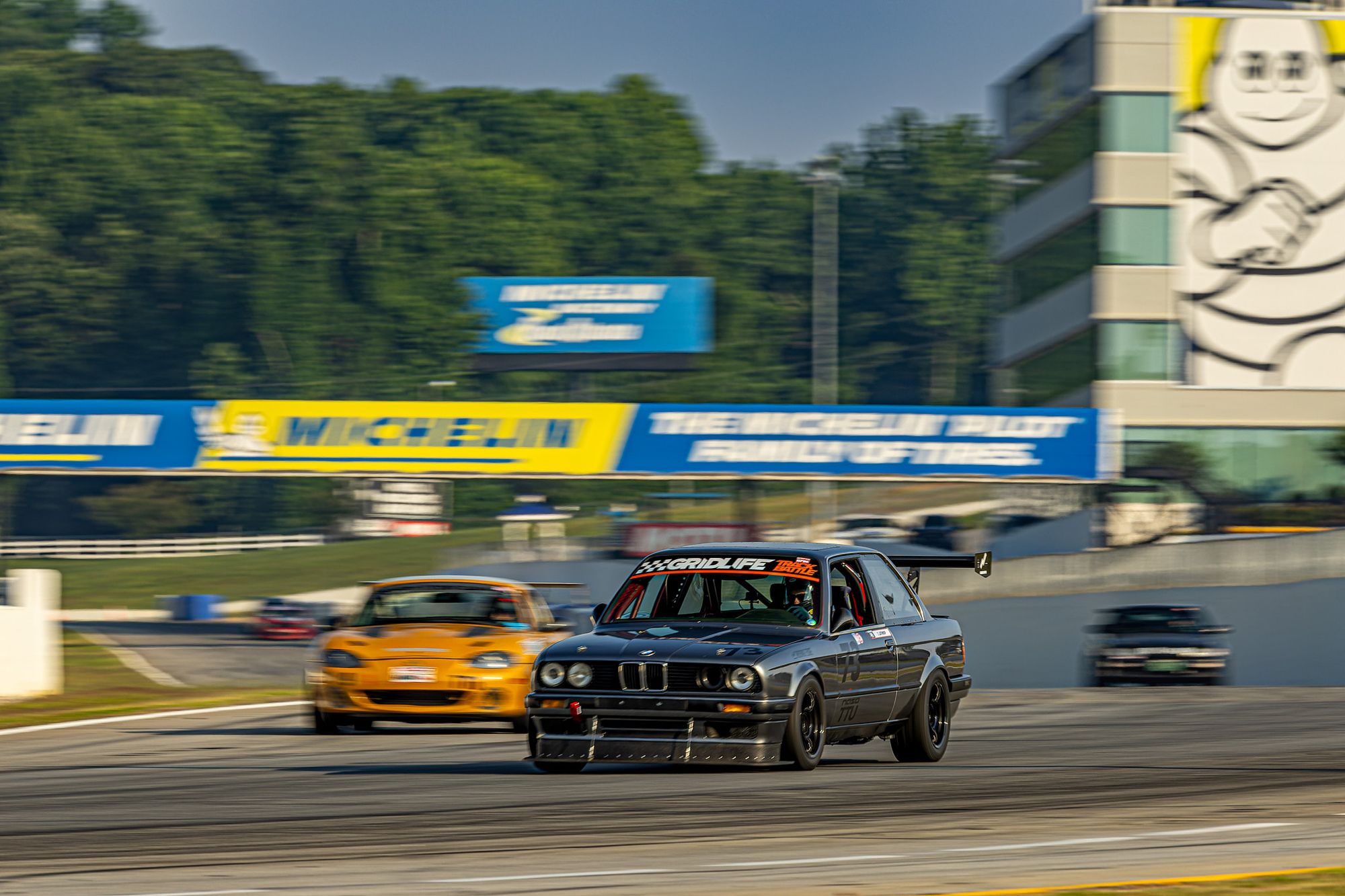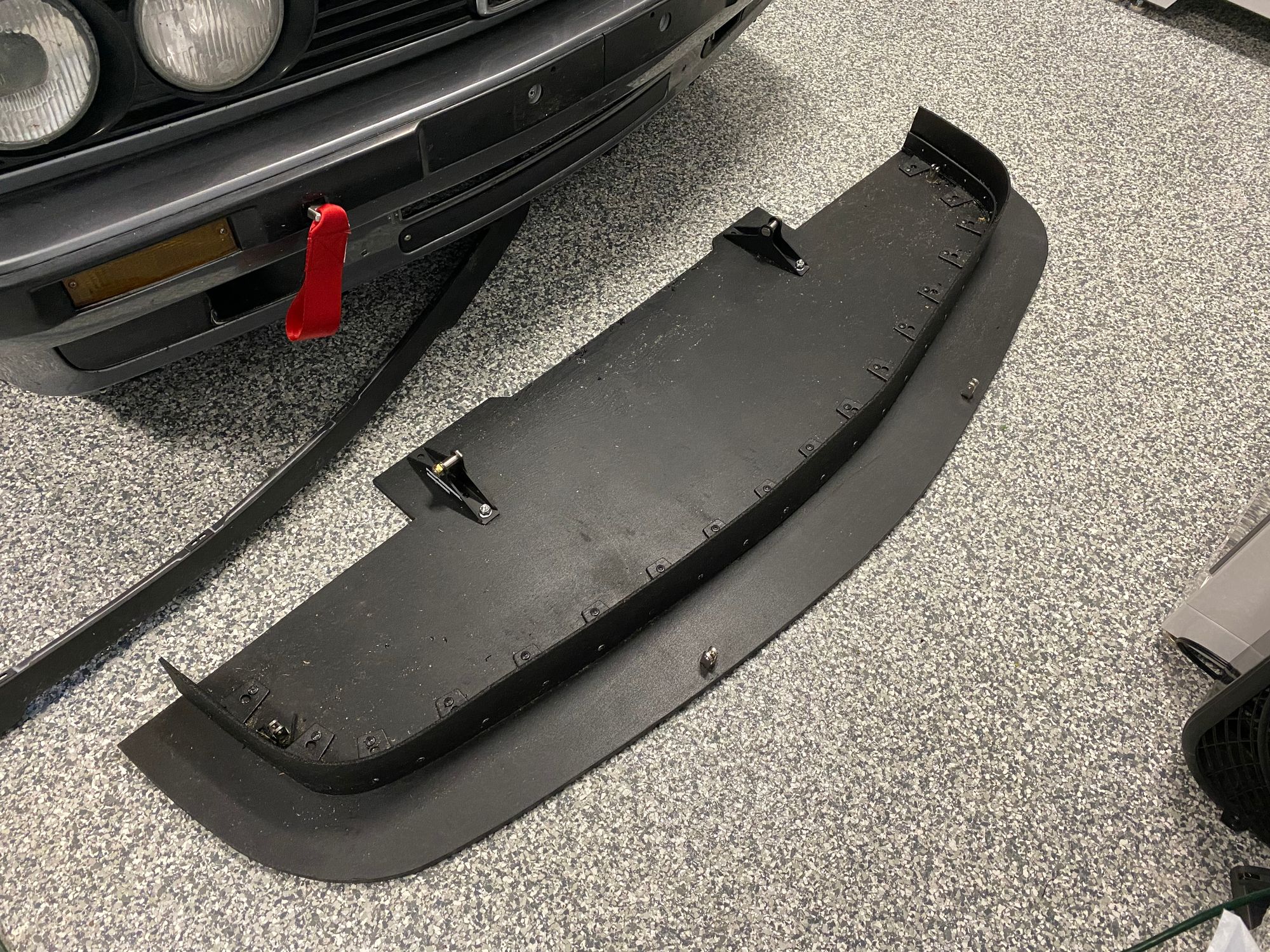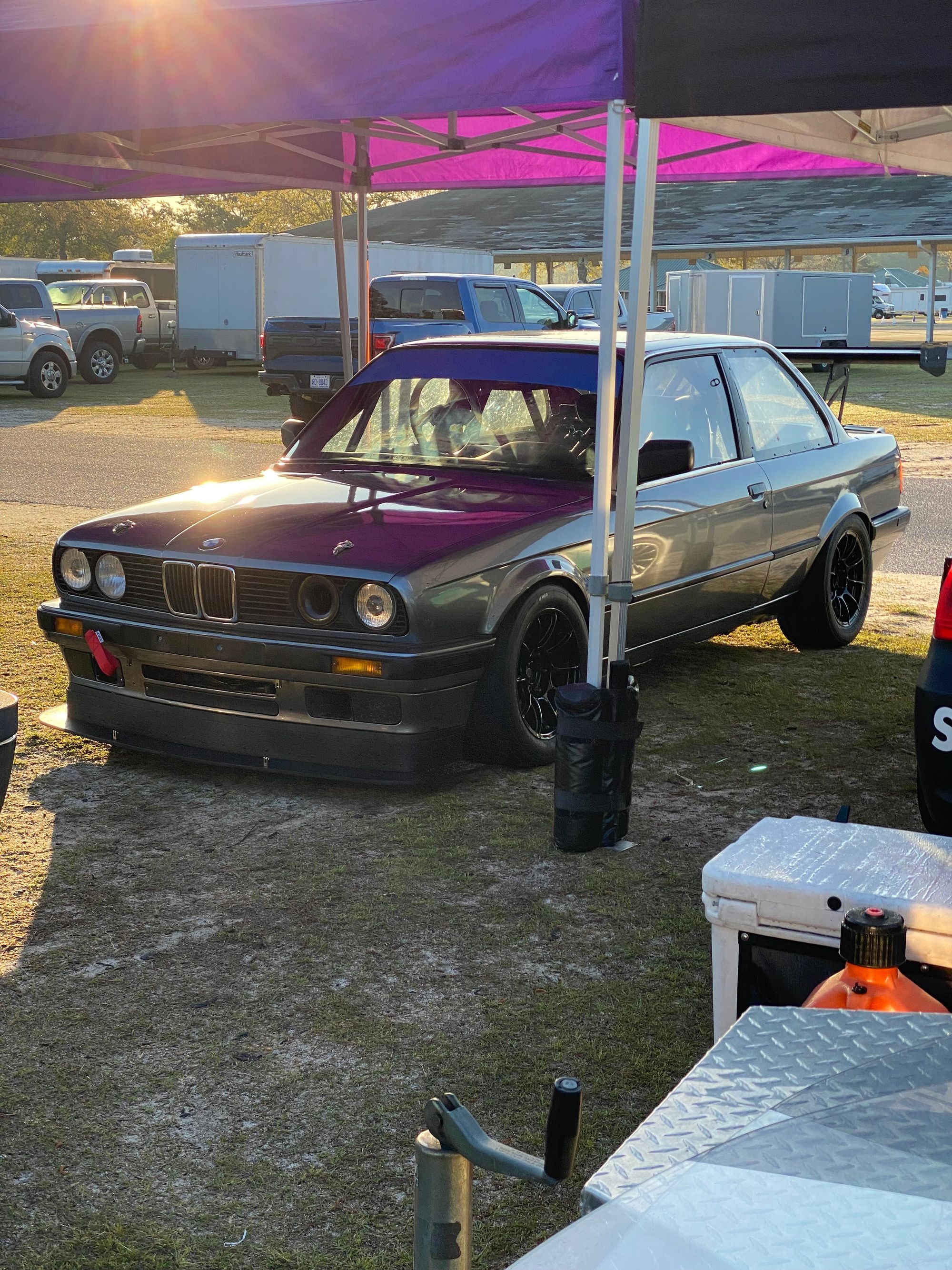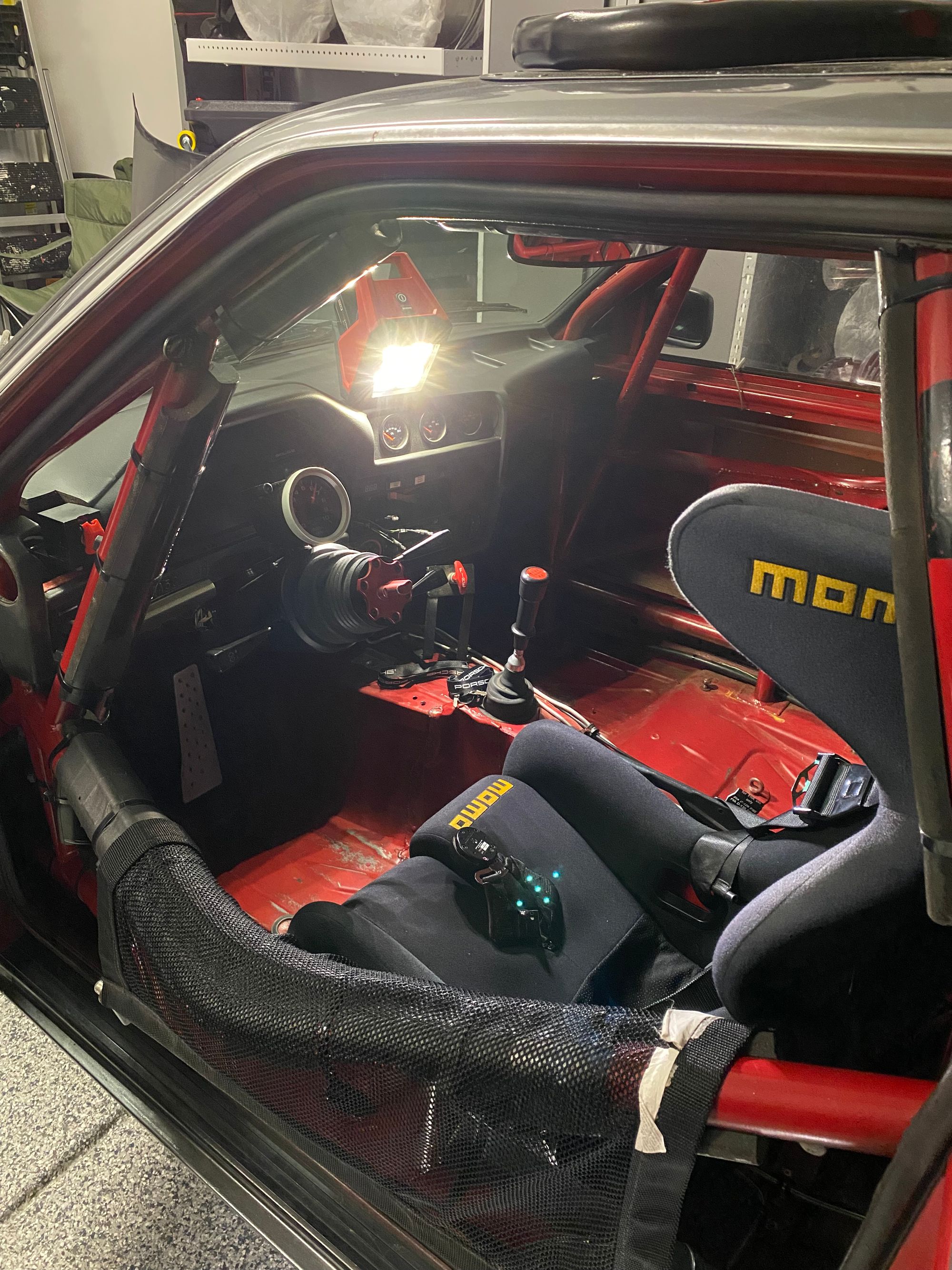 Modifications
Engine
M52B28 (OBD-I Conversion)
M3 Cams (not verified -- info from PO)
TRM Tuned 413 DME (spare DME included)
540i/Euro MAF (3.5″) (spare included)
OBD-I Intake manifold, Pink top injectors
3.5″ K&N Filter (brand new)
Wired oil pump nut
Aluminum underdrive pulleys
Stewart high flow water pump
Custom dual pipe exhaust (quiet and deep sounding)
CSF Aluminum Radiator (new)
Spal pusher fan
Drivetrain
Getrag 260 with Condor aluminum trans mount
Clutchmasters FX350 (pretty new, have receipt)
4.10 LSD from E30 M3
Condor Speed Shop chassis mount short shifter
Fluids
Redline 10W40 Engine oil (fresh, changed 9/10/23)
Castrol SRF brake fluid (flushed March 2023)
Redline MTL Trans fluid (two events)
Redline 75W90 Diff fluid (one event)
Suspension
E30 M3 Five lug conversion
AST 4100 Coilovers (fresh rebuild December 2022)

Hyperco 6″ front and 5″ rear springs, 700# F 800# R
Vorshlag front camber/caster plates
AKG billet rear shock mounts

IRP "DTM Style" spherical rear adjusters
E46 Steering rack conversion
Treehouse Racing "eyeball arms" – offset
Turner Motorsport 22mm (?) front sway bar w/ adjustable links
Eibach 16mm rear sway bar w/ adjustable links
Sparco front strut bar
Aligned to approx. -3.5* F -2.1 R camber, 10.5* caster, 0 front toe, slight rear toe-in. Was corner balanced to 50% cross but with unknown fuel level so it is not perfect.
Brakes
325iX brake booster
ATE 25.4mm brake master cylinder
E30 M3 OEM brake calipers and brackets
Pagid RSL29 Pads (new, one event)
Turner brake backing plates w/ ducting
Stainless brake lines
Brass guide bushings
OEM Evo front rotors (new, one event)
Zimmerman rear rotors (new, one event)
Exterior/Aero
"iS" Front lip
Red46 skid plate
Birch plywood splitter built to NASA ST/TT 5 specs (4" protrusion)
Professional Awesome quick release mounts and carbon support rods
Bimmerworld V3 carbon fiber wing (65″ wide, 18″ standoffs)
"iS" Rear spoiler (cut out to fit uprights)
All side windows are lexan/plastic
Sunroof delete panel, well sealed
Hood and trunk are pinned/latched with no hinges
Car is painted BMW Space Grey
Does not come with the carbon DTM mirrors in the photos
Wheels/Tires
TRM C1 15×8″ ET20 wheels
225/50-R15 Toyo RR (used)
Turner bullet nose studs
Extra wheels available: TRM C1, Sparco FF01, Racing Dynamics, Rial
New Toyo RRs available
Interior/Safety
Kinematic Speed custom roll cage

FIA style door bars and front hoop supports
Rear x-brace
Triangle foot saver bars
Central jack points are tied into the door bars on each side
Driver's floor pan is dropped and trans tunnel notched for better seat mounting and clearance.
1.750″ x 0.095″ DOM

MOMO Daytona Seat (expired, has seat back brace)
Lifeline Becketts 6pt Harness (new, 2027 expiration)
TeamTech mesh window net (new, 2025 expiration)
ESS fire sytem (AFFF, 5 gallon) (new, 2025 expiration)
MOMO hub / NRG quick release / Momo steering wheel
Longacre convex rear view mirror, steering wheel hook, SFI roll bar padding
Electrical cut off switch system
VDO Oil Pressure, Oil Temperature, and Water Temperature
AutoMeter 10,000 RPM tach with shift light (stock cluster delete)
Has a Painless Wiring secondary fuse panel for accessories

Wired w/ USB for charging GoPro
Wiring pigtail for AIM Solo2 included (can remove if not needed)
Wired for hard-wire AMB transponder (not included)
Wired w/ switch for Cool Shirt system (not included)