I'm a big fan of chassis mounted shifters. I've written a love letter and a buyer's guide for them. I've tried out a lot of them over the years.
Not to spoil the article, but I have a new favorite.
Today we are talking about Condor Speed Shop's chassis-mount shifter, a beautifully machined piece that packs a punch with its value-driven $295 price.
The Design
At first glance, the design of this shifter might be familiar to you. It doesn't look significantly different than the AKG Stage-II shifter, or the Bimmerworld Race shifter (read more about those in my buyer's guide), both of which are based on the BMW Motorsport chassis-mount shifter from the E30 M3 DTM cars. These are straight to the point shifters, with no extra frills such as gear lockouts or self-centering springs.
No frills is a figure of speech here, as the Condor shifter packs in many features that set it apart from others. It has captive hardware that makes one-person installation a breeze. It comes with a custom rubber gasket to seal the shifter to the transmission tunnel. There are multiple options for the shift knob and cap insert (I went with the Roundie knob and red cap).
It has 3 adjustable positions for the pivot ball so you can adjust the throw and notchy-ness of the shifter as needed (more on this later). It has a billet CNC base plate with beautiful machine work. It has a UHMW plastic pivot ball and it rides in an OEM plastic shift cup bushing.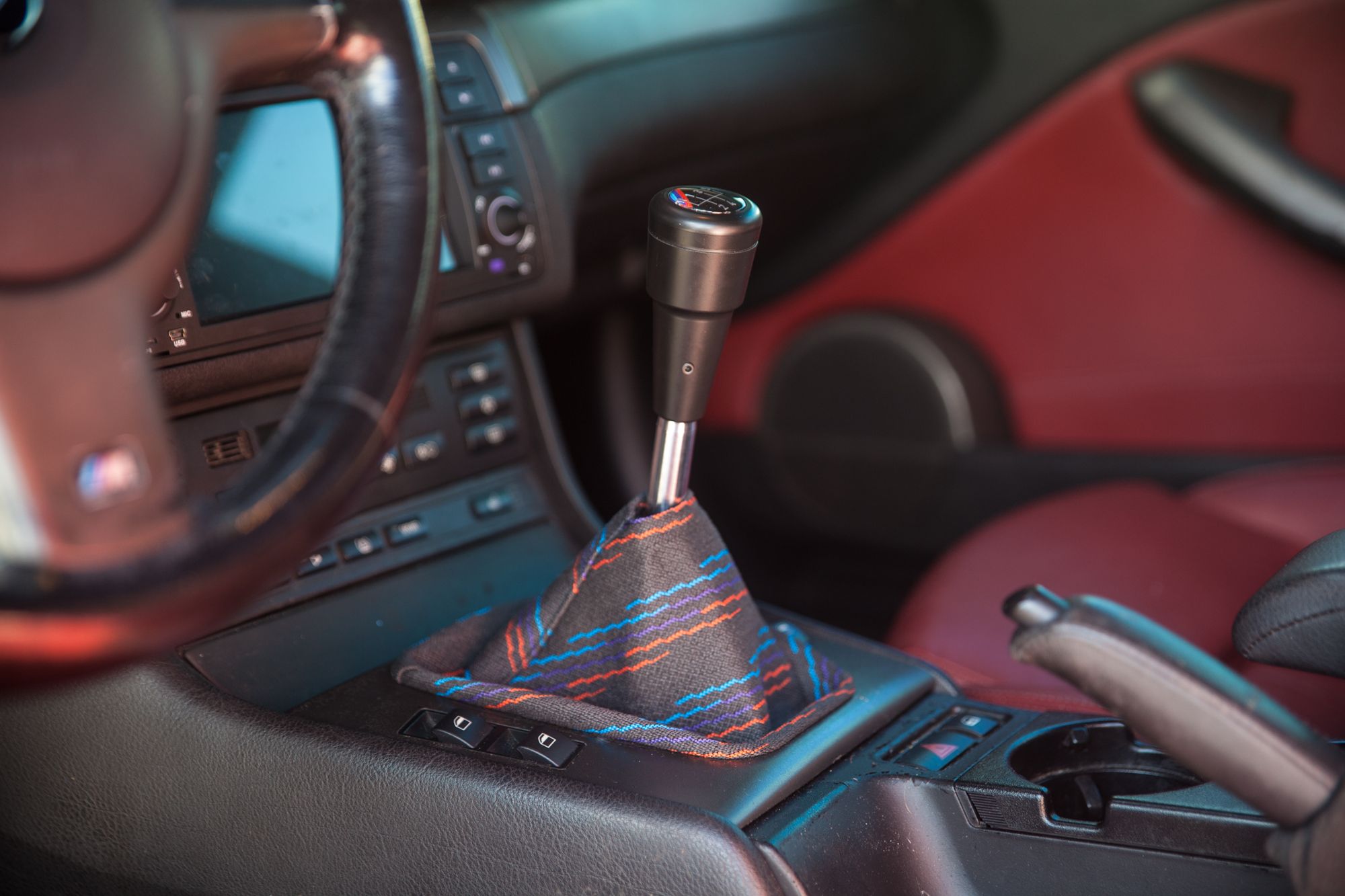 The last two features are the key to this shifter's success while on-track: the throw/travel, and the plastic pivot components.
Why These Features Matter
If there is ever any complaints about chassis-mount shifters, it is usually that they are extremely notchy and the throw is super short (which can lead to high effort). This makes them unsuitable for street use, in my opinion. This can also make them difficult to drive in anger on the track, where you have to focus on a lot of things besides just shifting.
Having a shortened throw is nice, but chassis-mount shifters often have throw that is too short, and in most cases the throw is not adjustable. When you add in that most chassis-mount shifters use an all-metal spherical bearing as the pivot point, which offers no compliance at all, and you can end up with a shifter that can be too hardcore, even for a race car.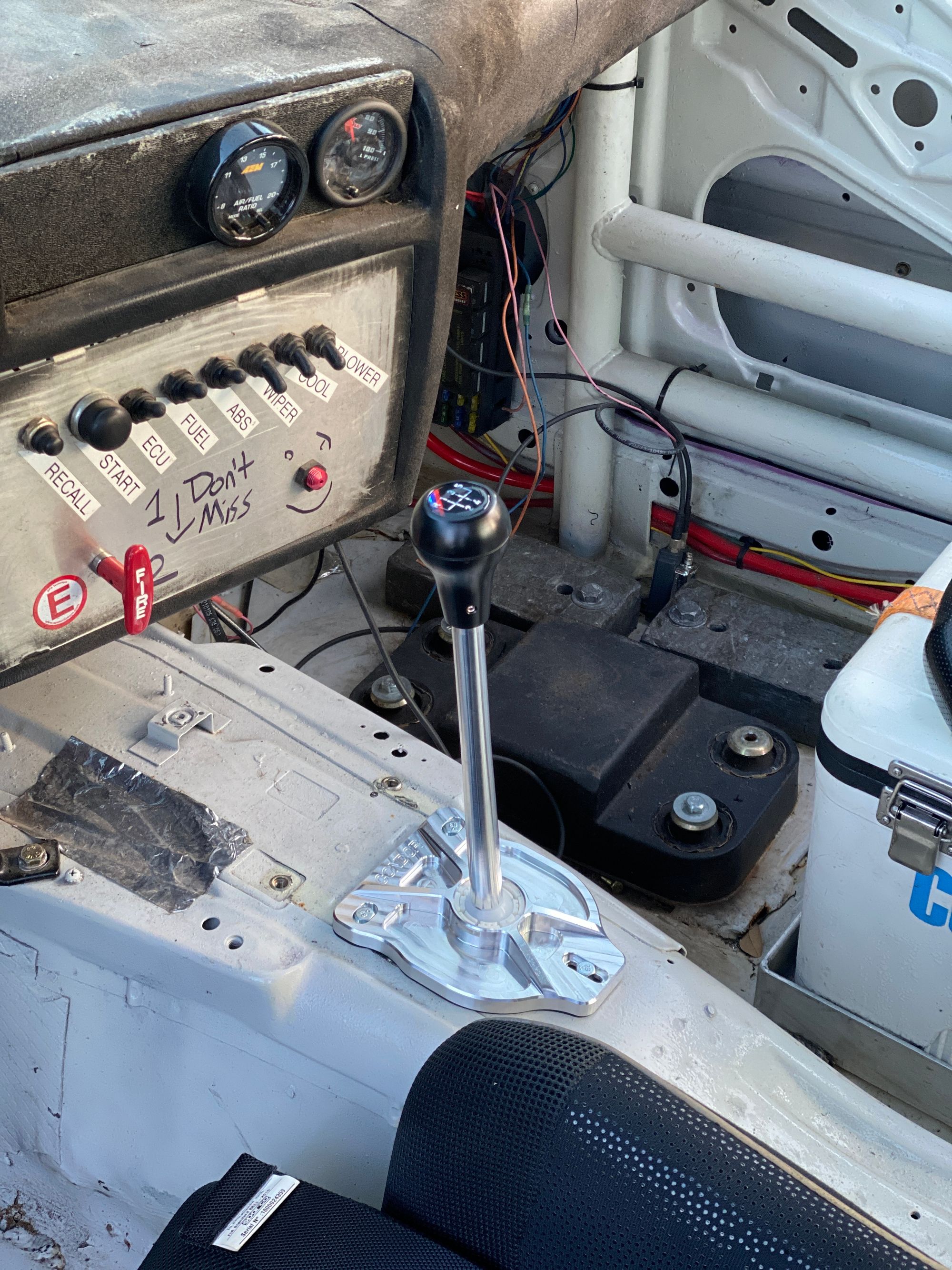 How The Condor Shifter Performs
I'll cut to the chase: I love the way the Condor Speed Shop shifter feels on the track.
The shifter comes pre-set to the middle position of the pivot height adjustments, and I think this setting is perfect. The throw is notably longer than a lot of its competitors, and that's a good thing. It is not too short as to feel notchy, but it is not too long as to feel sloppy either.
On the topic of notchy-ness, the plastic pivot ball and the OEM pivot cup allow for some compliance in the shifter, resulting in a smooth feel that is very welcome in my cabin.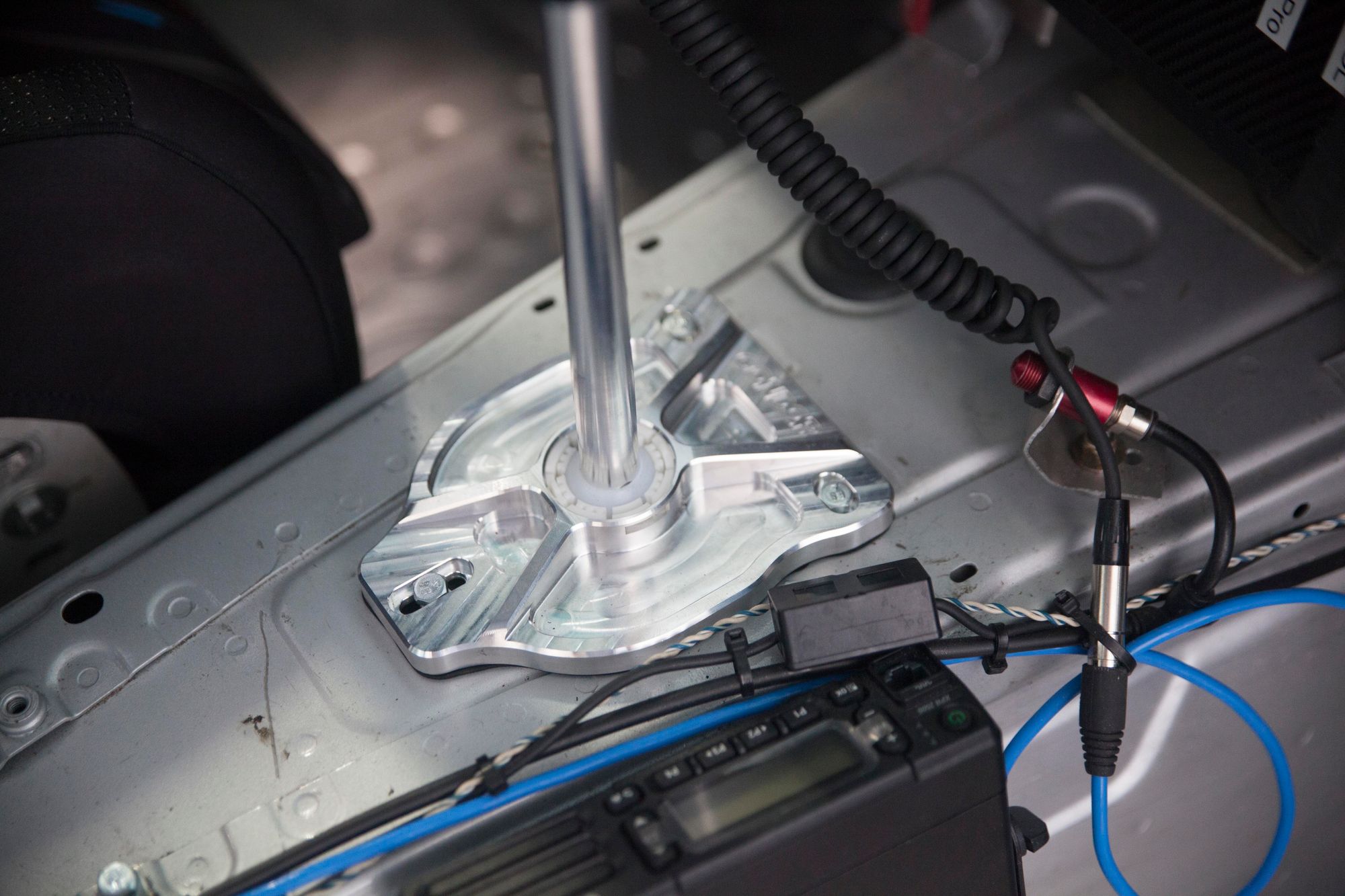 Row through gears while parked and you can see that the "fingers" of the OEM shift cup allow for some flex in the assembly. In my opinion, this is a great feature. The shifter feels tight and precise, but not clanky and notchy in the way that its competitors often do.
The end result feels like the best of both worlds: the compliance of a factory-style shifter, with the height and precise feel of a chassis-mount.
The Verdict: Two Thumbs Up
I really enjoyed my first full race weekend with the Condor chassis-mount shifter, in my M52 powered E30 built for NASA ST/TT5.
While I now have 3 cars (teaser alert) that each have a different chassis-mount shifter, I can see myself swapping the other cars to the Condor shifter. It feels that good.
---
Disclosure: While I'm a Condor Speed Shop fanboi and supporter, I paid for this shifter, and I did not receive any compensation or kick-backs for writing this review. The photos in this article were provided with courtesy by Condor, since I haven't taken any decent photos of the shifter in my car.