As a new transplant to the Southeast region, to date I have not visited any of the new to me "local" tracks more than 3 times each. This was my third time driving Roebling Road Raceway, and my first time on the new pavement (fresh as of ~June 2022).
Roebling Road is a small facility featuring a 2.02 mile road course, tucked within a residential area in Bloomingdale, Georgia, about 25 minutes from the scenic Savannah waterfront. The track has a lot of run-off, with large grass fields and sand traps to catch a car before it meets anything solid. The only exception is the pit wall exiting turn 9. Errant cars heading off on the outside would be wise to let it sail into the huge grass field, else they become intimately familiar with the concrete pit wall on the inside.
Prior to the repave, Roebling was infamous for it's low traction, abrasive surface. Since basically every corner of the track is a high-speed sweeper, it made for a cheese-grater like surface that was very hard on left-side tires, particularly the left-front. Needless to say, most people that had driven on Roebling were excited for it to be re-surfaced.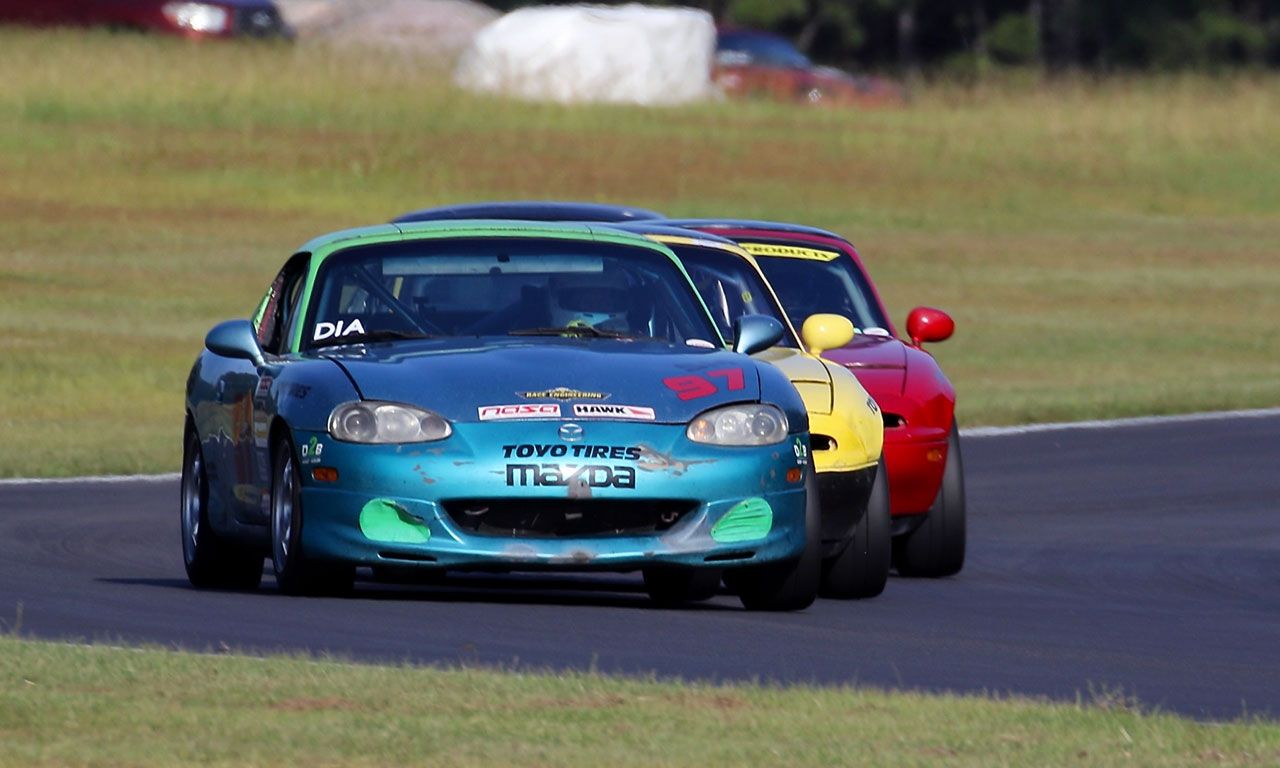 Savannah Sizzler
The seventh event of the NASA SE season was the third and final visit to Roebling for the year. The Summer Sizzler, as it was dubbed, was a combined event between the Southeast and Florida regions. Combined SE/FL events always draw a good turnout, and this one was no exception. The last combined event was in 2020 and it was at Daytona Speedway, running the full sportscar course. Daytona is a world-class facility designed to host hundreds of thousands of people, and Roebling is decidedly not that. With the entire paddock relegated to the infield of the track, things got pretty cozy as the weekend got underway. With TREC racing and practice sessions on Friday, parts of the infield were already starting to fill out on Thursday night.
With several red flags occurring even during the Friday practice sessions, the tone was set for a weekend of packed run groups and lots of cars testing (and exceeding) the traction limits of the new track. HPDE, and surprisingly Time Trials as well, made it through the weekend with only a few minor incidents.
Racer Frustrations
Both race groups were absolutely packed; Lightning group had approximately 75 cars [!!] on track in all sessions. Even with many racers electing to sit it out, the combined race group warmup session had over 80 cars on track. Roebling is not a large track – at 2 miles long and relatively narrow, passing is difficult and traffic was a constant for the racers. With cars flying off the track left and right, some inevitably getting stuck in precarious positions, every race of the weekend had either full-course cautions or even red flags.
It seemed that the Lightning group never got more than 4 green flag laps in a race, which wasn't great for the racers or the spectators alike, but nevertheless, there was some exciting racing going on.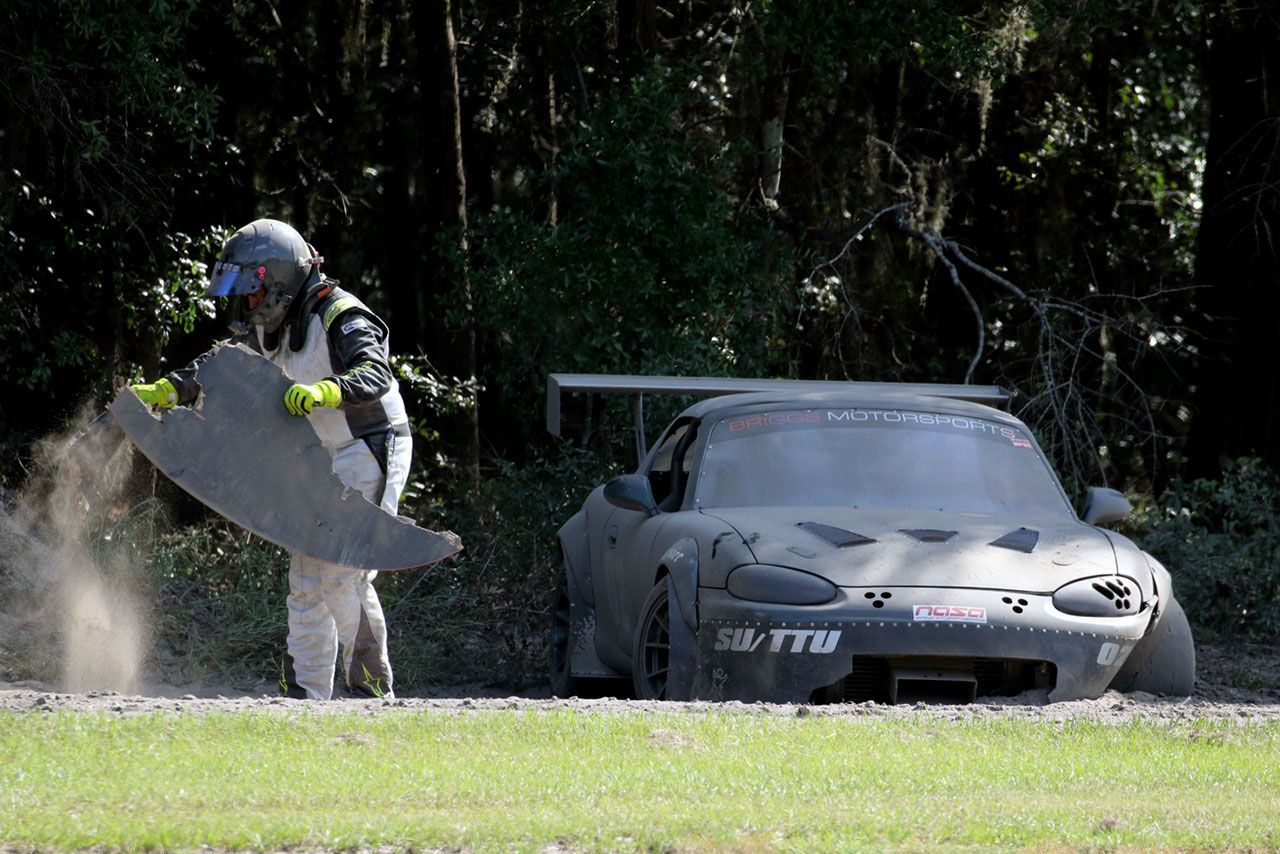 The New Pavement is an Improvement
I had high hopes that the new pavement would improve traction and tire wear. It definitely delivered in both departments. That said, it wasn't as drastic as I expected it to be. The track still drove very similarly to the old pavement, with lots of throttle modulation needed in the sweepers to teeter between understeer and oversteer. The track was smoother overall (less bumps) and far less abrasive. Tire wear seemed greatly improved.
The track was definitely faster.
If racing classes didn't have new records set, it was only due to the abundance of traffic. Certainly in Time Trials the pace was faster than ever, and several records were broken. In general, it seemed that the track is now somewhere around 0.5-1.0 second faster than it used to be.
Movers and Shakers
In Time Trials, several records fell throughout the weekend. In TT5, where I competed in a field of 7, Ryan Delvaux took the win on both days as well as re-set his own record by about half a second. It now stands at 1:17.7.
In TT6, the largest class with 10 entries, the competition was fierce. On Saturday, Spec Miata racer Joseph Tobin took the win and the class record, with a 1:22.6 (0.8 improvement over the prior record), with Ed de Oliveira (the previous record holder) in second and Nish Patel in third.
On Sunday the script got flipped and Nish came out out top, with a new record of a blistering 1:21.9. Ed came in second with a 1:22.1, and Tim Wilson claimed third with a 1:21.3. TT6 was where it was at for Time Trial competition!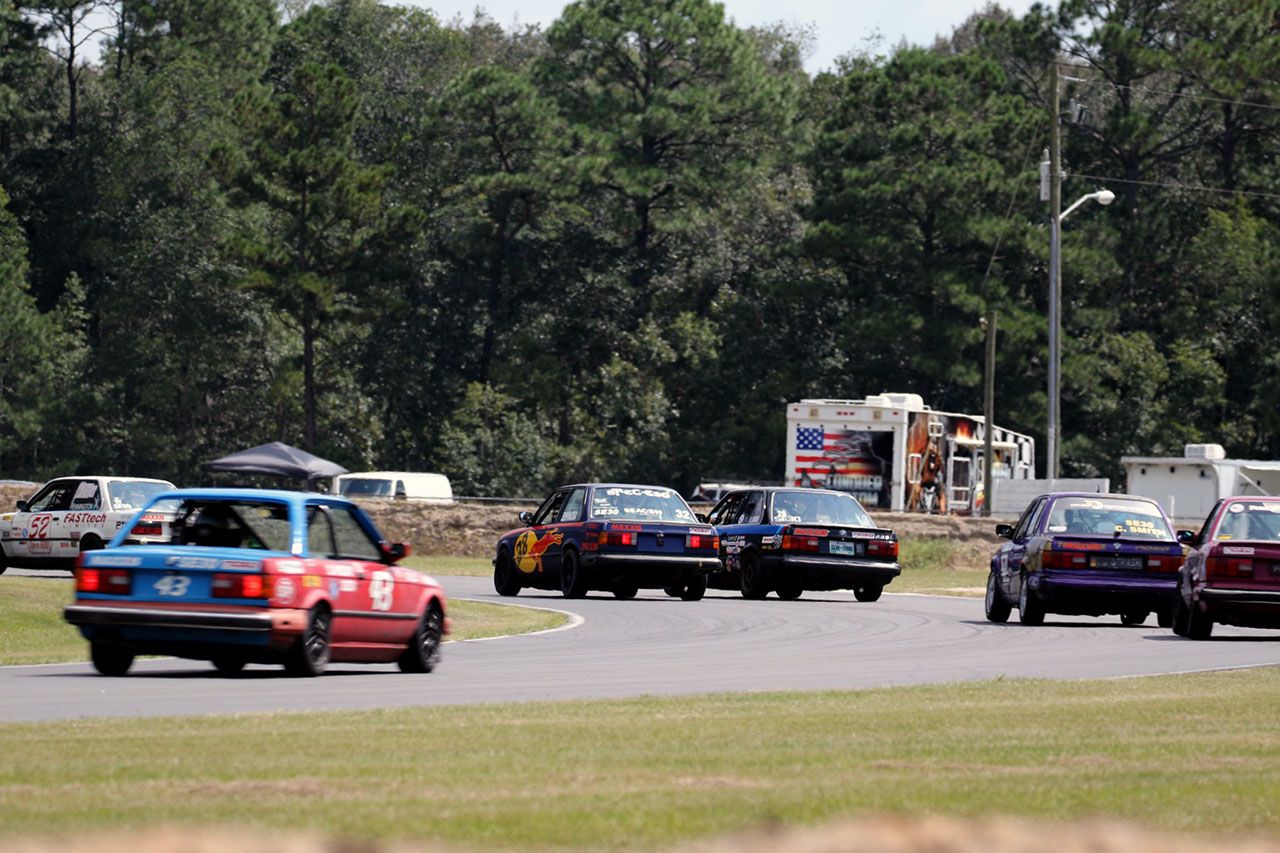 In a Spec E30 field of over 40 cars, the Florida boys represented very well, even though many of them had never been to Roebling before. Tom Panzerella achieved his first pole position with a 1:22.5, and Scott McKay, Andrew Engelmann, and Corey Smith ran in the top 10 with relative ease. After a transponder issue in qualifying landed him in the back of the pack for every race, Carlos Mendez moved through the field more than 15 positions in each of the three races. Impressive, since this was achieved on a narrow, jam-packed track, and with less than 4 green flag laps each race.
My car and driving showed improvement.
With the track's surface improved by 0.5-1 seconds, I improved on my previous best time by a little over 1.5 seconds. With a best time of 1:21.88 on Saturday, and 1:21.08 on Sunday, I finished 5th out of 7 both days. Thankfully, unlike at Road Atlanta in the summer, the times across the field were tighter, and I feel like I had a fighting chance of a 4th or even 3rd place finish each day. Regardless, the competition was awesome, with Raul Iriarte and I battling closely, within a few tenths each day. It was one of the most fun Time Trial events that I've ever attended. Winning or not, it's great to have a relatively large field to compete in!
Parting Thoughts
Roebling Road is a very deceptive track. It is the only track I've been to where in my very first session, I felt like I had already learned the layout enough to push relatively hard. The thing is, the simplicity of the layout makes it harder to find an edge over your competitors and thus to be "fast" at the track.
I was admittedly not the biggest fan of Roebling after my first two visits, but the combination of good friends, close competition, and a less abrasive surface meant that I am really looking forward to going back soon.
---
Hey! 👋 Since
RISING EDGE
is brand new, I need your help! I'm working towards my goal of
100 subscribers
. If you enjoyed this article 🙌, please
forward it to a friend
that would also enjoy it, and
subscribe
to receive one email per week with our latest post.
It would mean the world
🙏