When I started building my #74 E30 back in 2016, I had some preconceived notions about driver & cockpit ergonomics. However, this was my first build focused solely on track use, and I still had a lot to learn.
Early in the build, I did my best to set up the seat and steering wheel how I liked them, because I wanted my custom roll bar to be designed and built around me. Having owned an E30 with fixed-back seats and a small-diameter aftermarket steering wheel, I had it in my head that E30 steering wheels were way, way too high.
Unfortunately E30s never had adjustable steering columns, and late model E30s that came with airbags (like mine) are even harder than early models to tamper with the column height. To overcome this, I had the roll bar fabricator come up with a bracket solution that allowed for column height adjustment.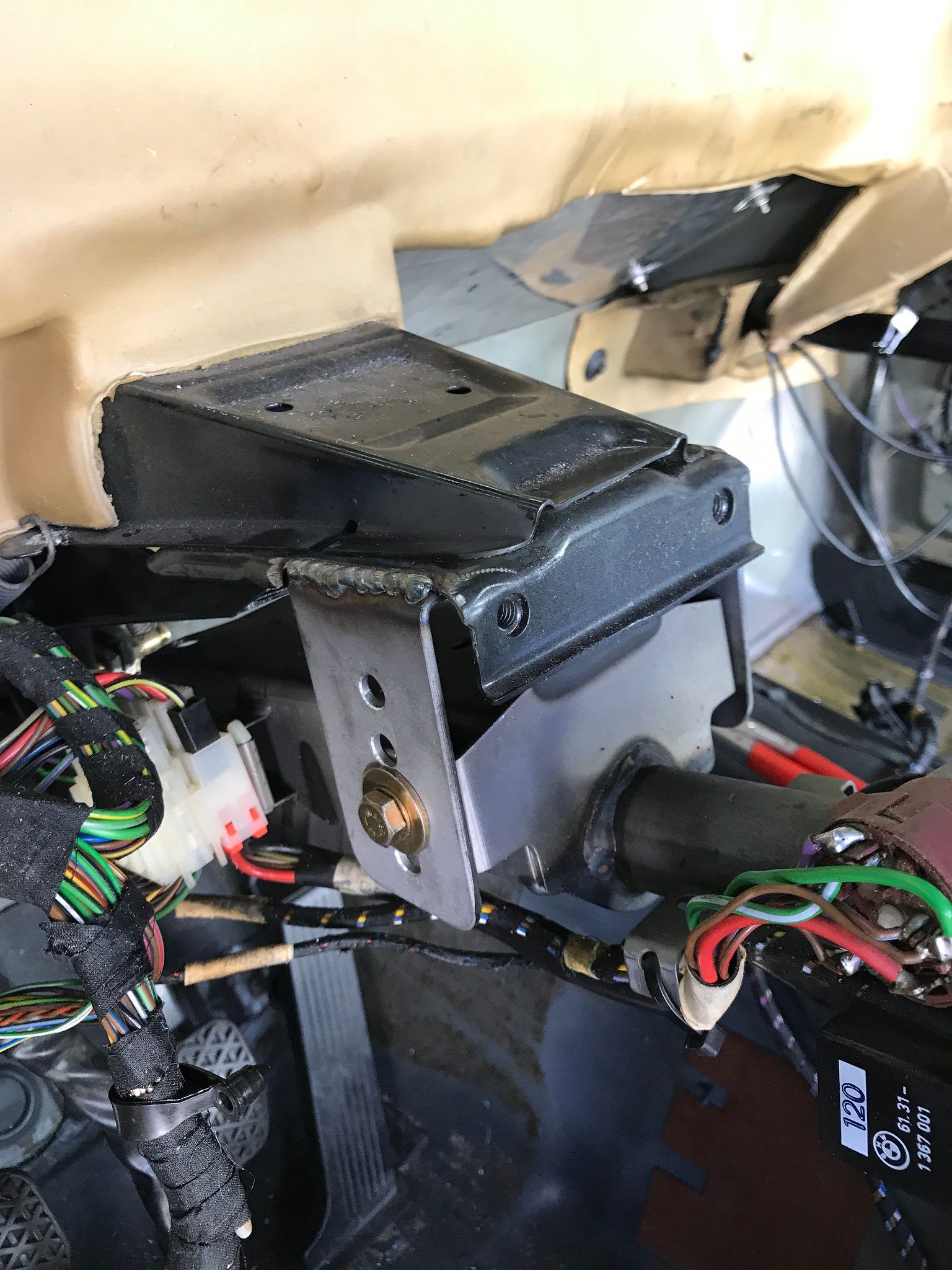 With the steering wheel appropriately lowered, and the seat in position, the fabricator finished up the roll bar and harness bar height based on my shoulder height and seating position.
In hindsight, my initial setup of the cabin ergonomics back in 2016 wasn't very good. The seat was too high, it was not reclined enough, and it was too close to the pedals. The steering wheel was too low and too far away from me.
Ever the tinkerer, I never just let it be. Over the years I've iterated on the ergonomics a little bit at a time. I'm certainly not getting any taller (or shorter, not yet at least), but I still put in effort to perfect the cabin ergonomics of my cars.
Driving at the limit requires you to be comfortable with, and in, the car. As I've improved the ergonomics and felt more comfortable (literally and figuratively), I've felt like I can disappear in the car. What I mean is that I'm no longer distracted by any physical discomforts or weird quirks of the interior that take away from the focus needed to drive the car at the limit. I simply feel connected and integral to the car when I'm fully comfortable in it.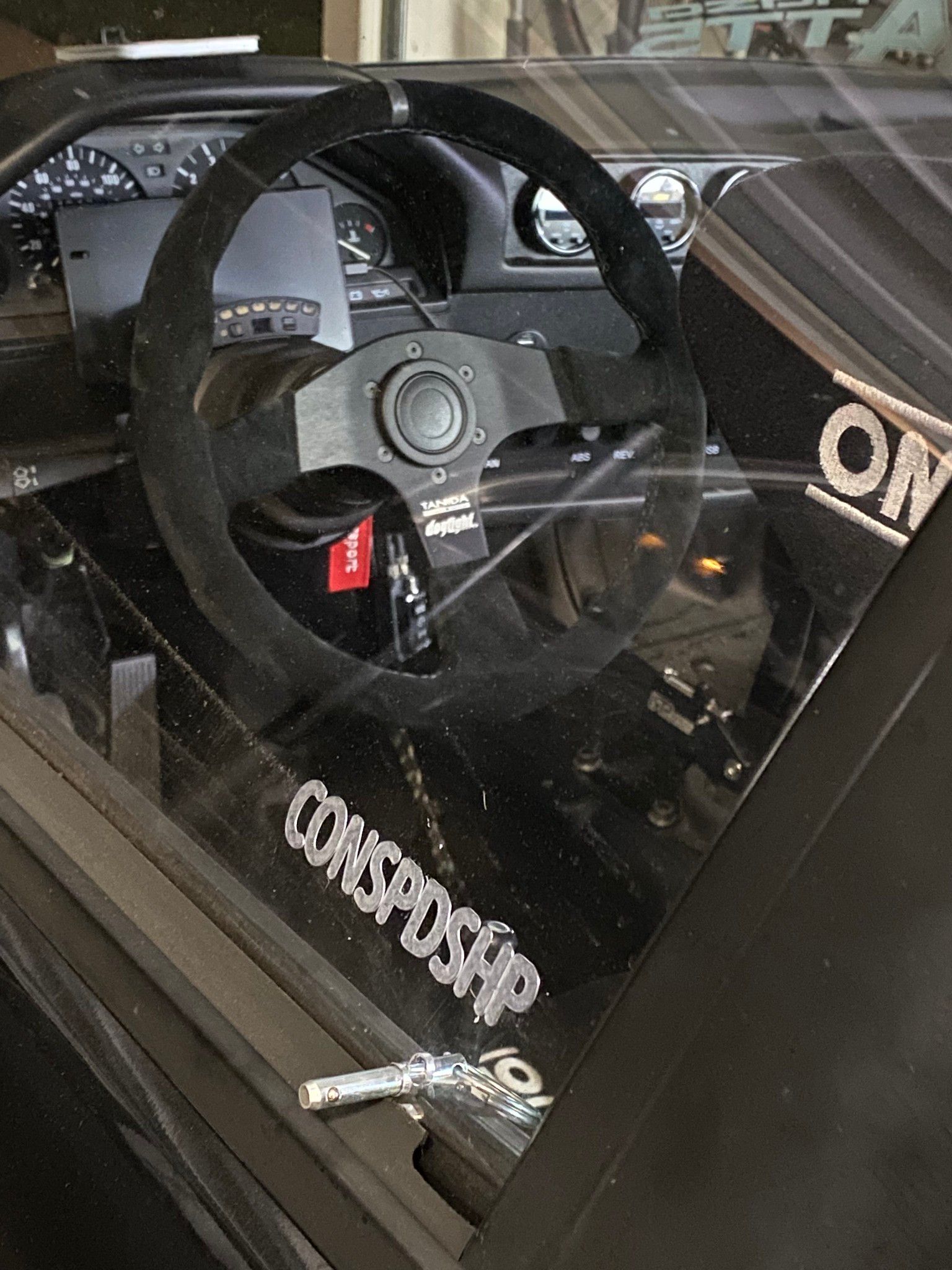 Here are some of the things that I've done over the years in order to get more comfortable.
Seat
Fore/Aft Position

Moved the seat further back, away from pedals.

I'm happy with it now; my legs have a slight bend at full extension, but don't feel cramped or ever in the way.
If your legs are too cramped, the extra bend will keep them up and off of the seat's leg support cushion, which will fatigure your legs further.

Vertical Position

Lowered the seat closer to floor, added additional recline.

After driving Carlos's E90, I found that I simply preferred sitting lower in the car.

Side/Side Position

Moved the seat towards the center of the car, and with a slight right-wards tilt, in order to better center my body to the steering wheel.

The steering wheel/column, at least in E30s, is not very centered in the car! It comes out of the dash at a weird sideways angle.

Comfort

Added an OMP lumbar support to the seat.

Fixed-back seats tend to have very flat/vertical backs, with little to no lumbar support.
Steering Wheel
Fore/Aft Position

Moved the steering wheel closer to me by adding a quick release and a spacer.

Proportionally, I have long legs and short arms. When I moved my seat back, I had to move the steering wheel back with me.
I have a total of 4.5" sitting between the wheel and the hub, in order to get it right where I want it!

Vertical Position

Raised the steering vertically two or three times since I inititally set it up.

I don't know why I had it set so low to begin with. I've found that I like the steering wheel so the center/horn is pointed towards my collarbone or lower throat.

Comfort

Switched to a suede steering wheel with ergonomic palm swells.

The grip is simply better with suede versus leather, and the palm swells help me position my hands at 10 and 2 more subconsciously.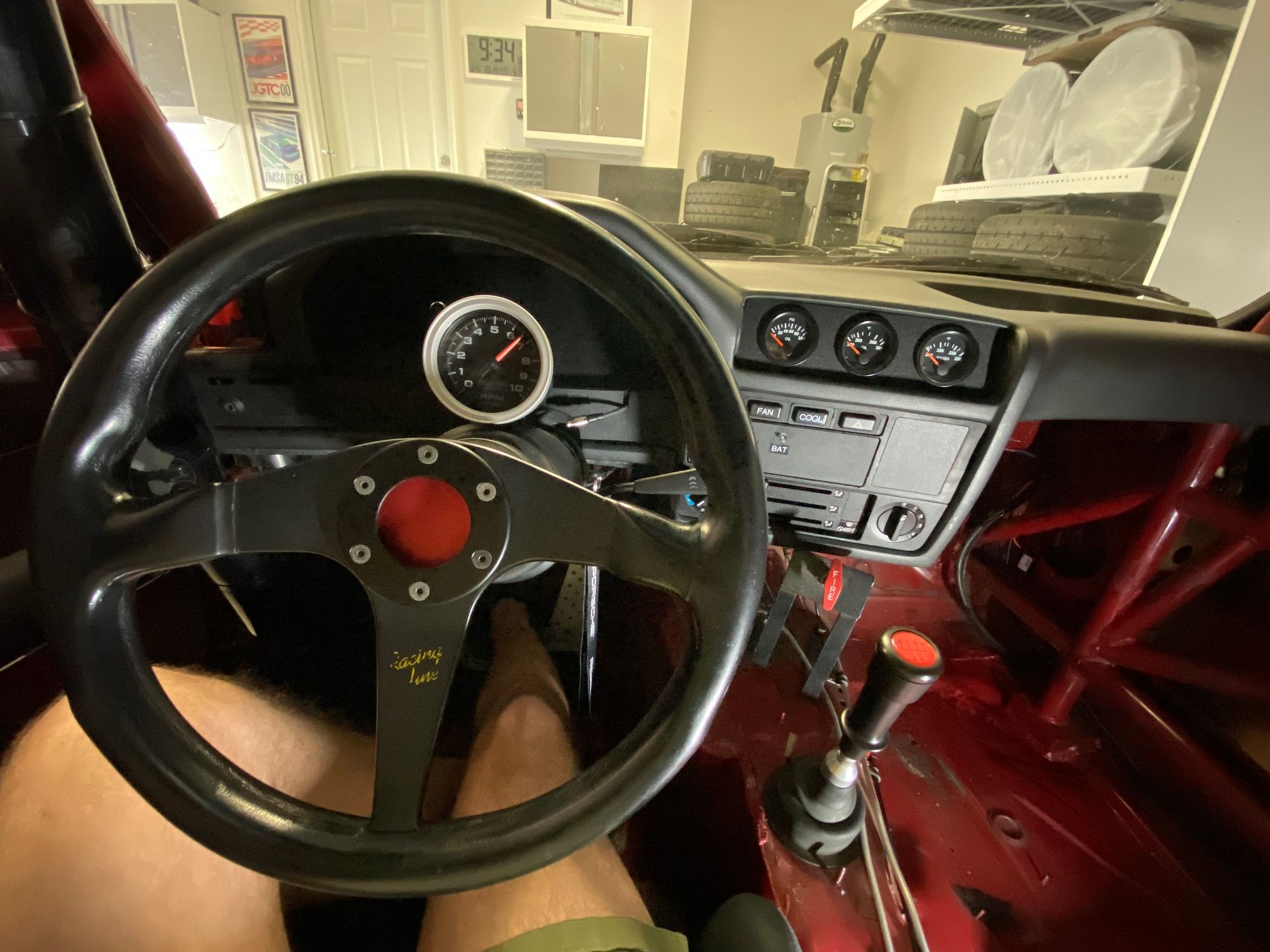 Pedals
Pedal Covers

I run a set of grippy covers over my brake and clutch pedals for more traction.

Dead Pedal

This is a must-have for me. I find it much more comfortable than trying to rest my left foot on the floor, or to hover it over the clutch pedal.

Grip Tape

A strip of grip tape where my heels rest helps prevent my feet from slipping around. It also provides wear resistance for the floor pan paint.
An additional strip closer to the seat helps with traction when stepping out of the car, especially if the car has door bars that you have to climb over.
Misc/Other
HANS Gel Pads

HANS sells a gel version of the shoulder pads that I find more comfortable than the foam versions that they come with.

Chassis Mount Shifter

Less reach from the steering wheel to the shifter is a win in my book.

Water Bottle

Hydration while you're in the car helps a lot in those hot summer months.
---
Parting Thoughts
Newer cars have a huge benefit with tilting and telescoping steering columns, allowing you to position the steering wheel on the fly. Seats are still somewhat difficult to move around, but only require a couple of tools to do so. It's totally feasible to experiment with several seating positions throughout a track weekend.
Keep in mind when moving the seat around that you may have to adjust your harnesses accordingly, especially the sub-belts with the cam lock, to make sure that all of the belts are still positioned properly on your body.
Hopefully the things that I've done with my car will spark some ideas of things to try in yours. It's worth experimenting over time, since little tweaks can make a big difference in your comfort.