Michelin Raceway Road Atlanta, home of Petit Le Mans and many other world-class races, was a bucket list track for me. In December 2020, my forthcoming move from South Florida to Charlotte, NC was the impetus for visiting the track for the first time. My friends Matt Lopez, Raul Iriarte, and I made the trek up from Florida. We started out before sun-up on Friday morning, and after the weekend wrapped, they headed back to FL, but I went onward to Charlotte to scope out the area and some houses.
Braselton, Georgia is still very much "the south," but let me tell you that Road Atlanta in December can still be very cold. The lows were in the teens, there was frost on everything in the mornings, and the highs barely hit 40° F. I can also tell you that Braselton in June is a very different beast. It was Hot with a capital H, and just like my old home state of Florida.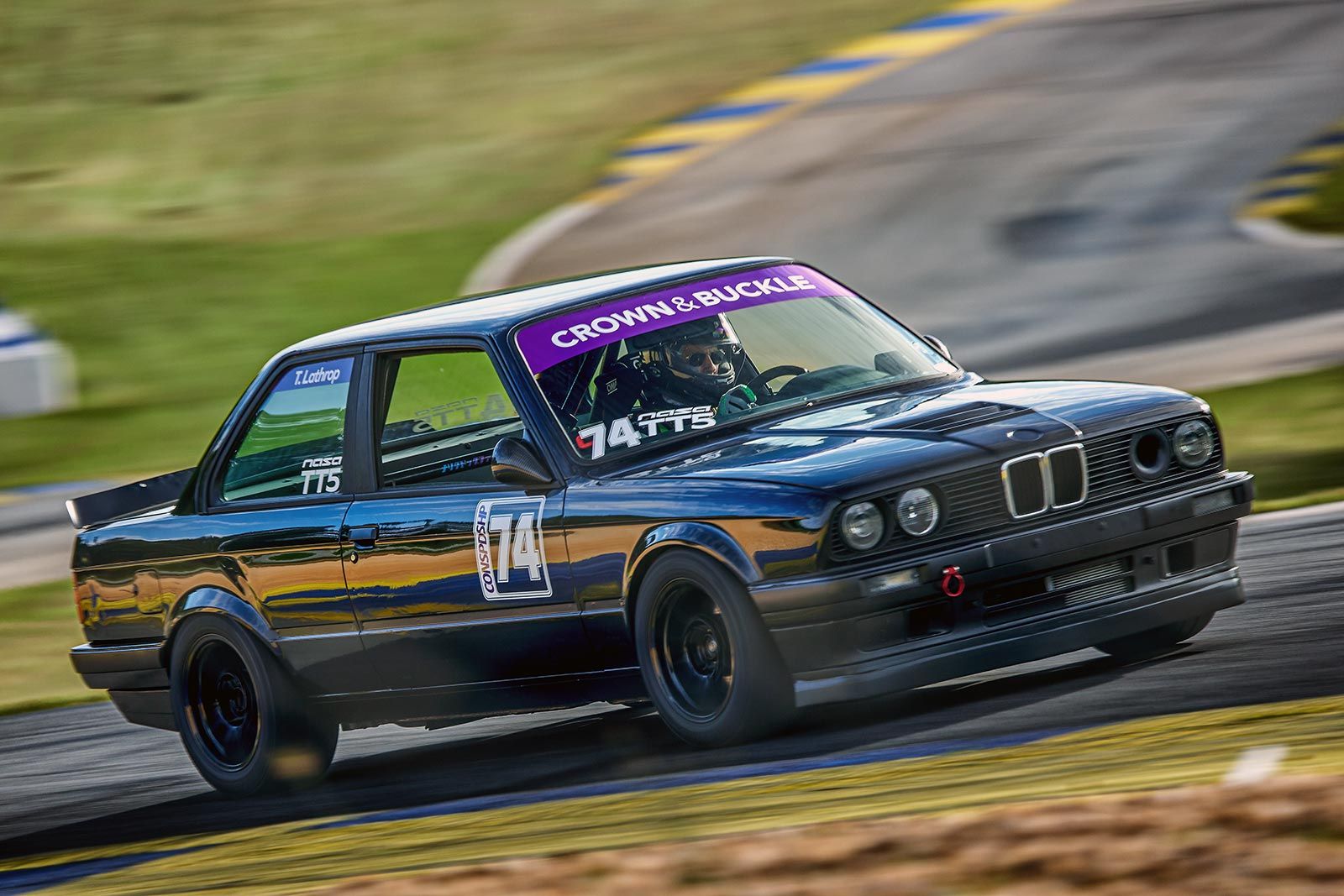 Turn 7 Gurl
What does that even mean? I don't understand NASA SE's event names, but I digress. June 2022's NASA SE event was my third time at Road Atlanta, but only the second time I had been there with my #74 TT5 E30. The first time I was there, back in 2020, we had 5 entries in TT5, and I won both days. Saturday was by a narrow margin, but with a little more track familiarity I won handily on Sunday.
Unfortunately, for me at least, something happened with the SE Region's TT5 group in the last 18 months, because I'm a back-marker in TT5 now. Mind you, my E30 was never built to fit into TT5 well. It was simply the class that it naturally fell into, and for various reasons, I haven't done much to optimize the car for the class. It is basically classed to run "full aero" and Hoosier R7 tires, but I am not running any aero and I'm running Toyo RR tires. On top of all that, it's a good 70lbs heavier than it could be for the current power level and claimed modifiers.
I have to say that being the back-marker can be liberating. I had no expectation going into the weekend, and no pressure to perform. I was simply there to have fun, be safe, and hopefully improve on my times throughout the weekend. I did just that.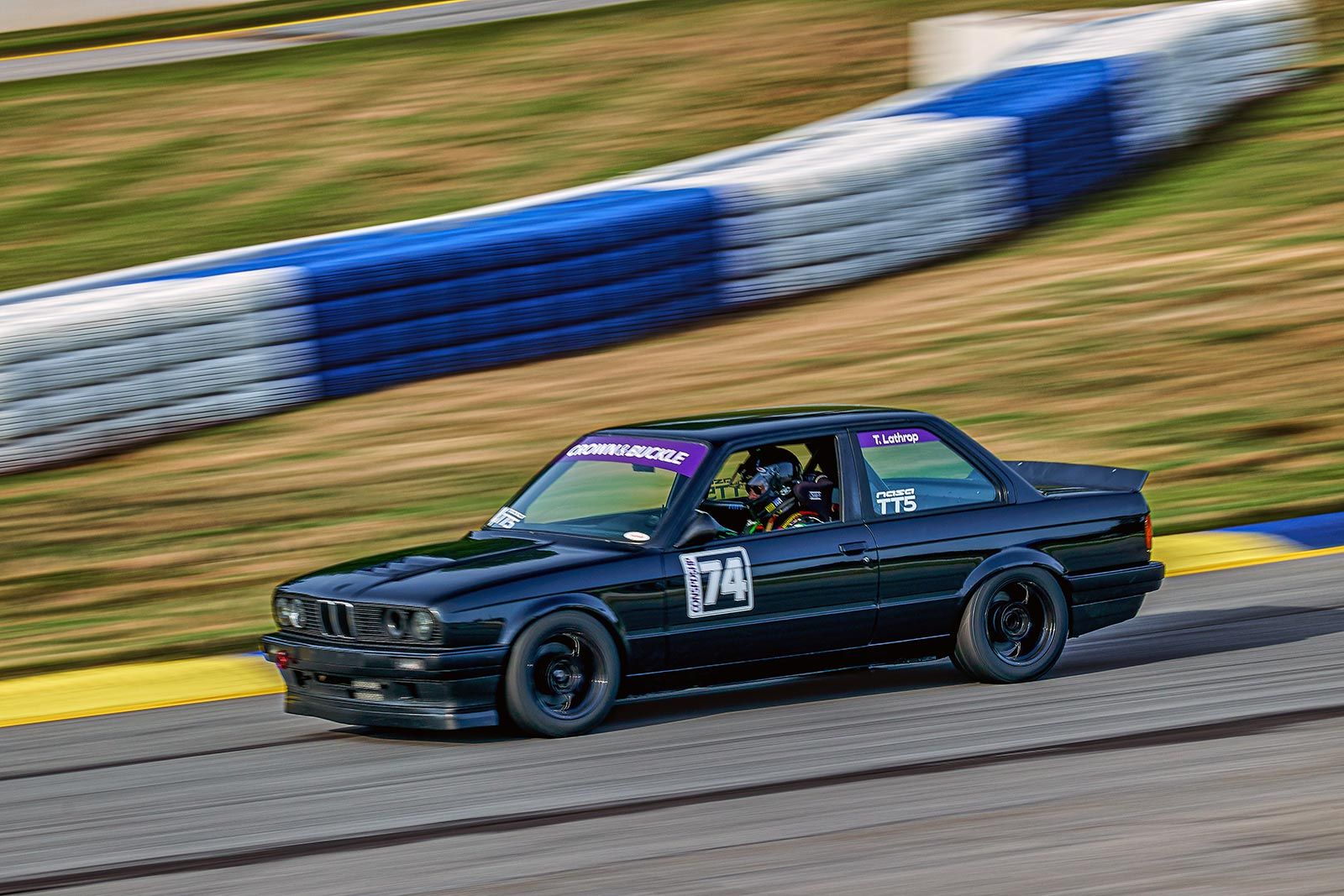 Starting out on Saturday morning, the first couple of sessions were just getting acclimated to the track again with the car I hadn't driven there in 18 months. I've also been making quite a few changes to my E30 this year, so it was a good chance to see how my comfort level had improved with the car. I was running mid-pack TT6 times early on Saturday, but by the end of the day I had picked up the pace quite a bit. I beat out the fastest TT6 guy at the end of the day, but in my own class, I did finish DFL (5th out of 5), a solid 3 seconds behind 4th place and 6 seconds behind first. Ouch.
On Sunday I picked up the pace and dropped a full second versus Saturday. I still finished 5th, five seconds outside of the winner. That said, I was very close to my previous best time in this car, which was achieved on Hoosier tires, so being close to that time on ~15 heat cycle Toyo RR's was a win in my book.
What was the take away?
I had a blast at this event. As I mentioned before, it was freeing for me to not be in the hunt for any sort of good "official" result. I made sure to stay out and take the checkered flag in every single session. Even if I was already outside of the ideal hot-lap window for my tires and/or mental acuity, I simply slowed the pace down by a few seconds and stayed out there. Practice, practice, practice is the best way to learn a track and improve your skills. Each lap I tried to focus on a particular corner or segment of the track. I also did some practice drills, such as going through a 3rd gear corner in 5th gear; trying to keep my corner speed and thus my RPM as high as possible so as not to bog down.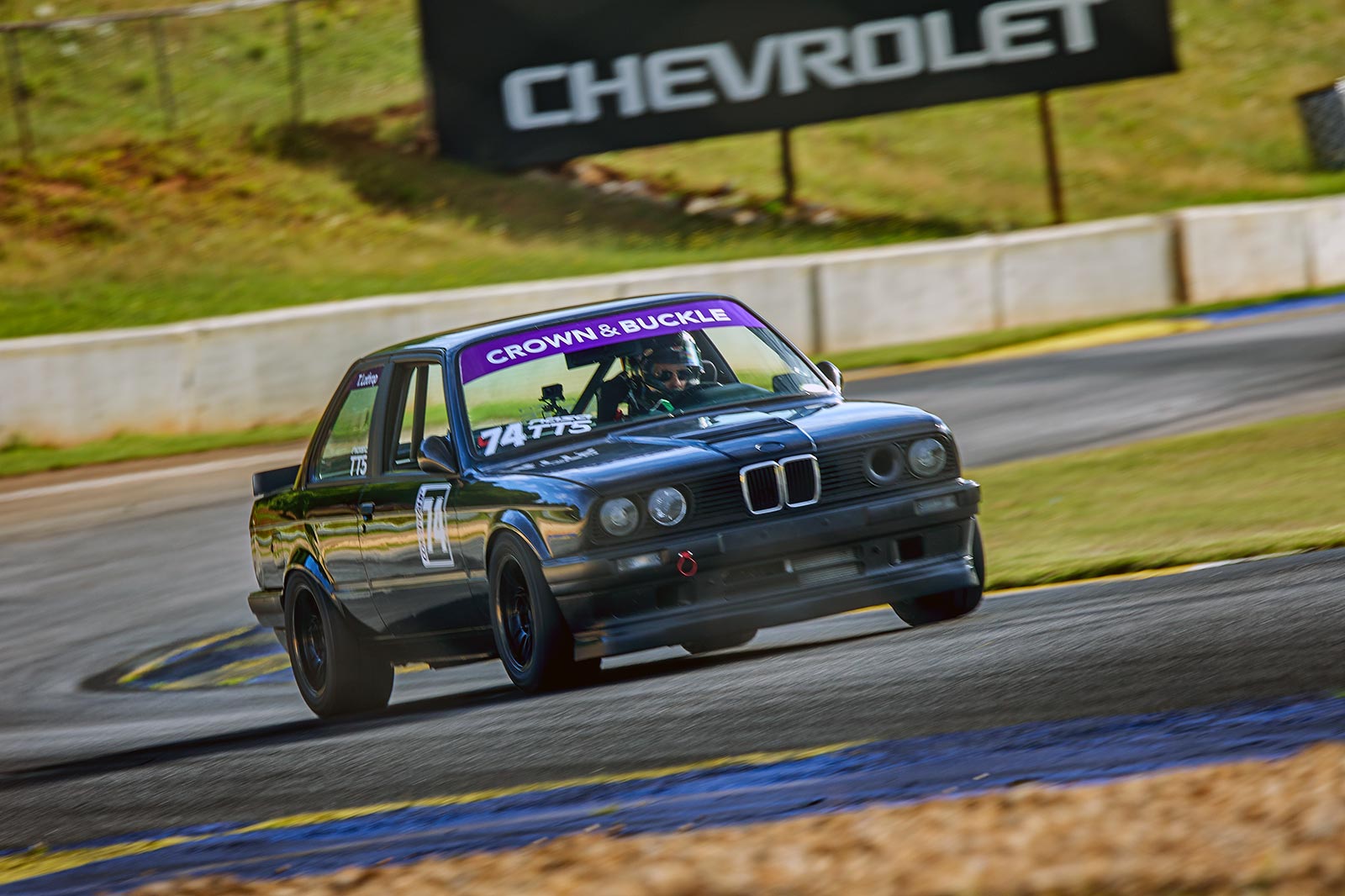 Closing Thoughts
I have a long way to go before I am competitive in the SE TT5 class. I certainly have a lot to learn about every southeast track, as I've only been to Road Atlanta 3 times, Roebling Road 2 times, and haven't been to AMP, CMP, or Rockingham yet. That said, I don't plan to make my #74 black car fit the class any better than it currently does. My new silver E30 will probably be more competitive in TT5 once I get it out there, but only time will tell.
In the mean time, I look forward to learning the ins and outs of each track in a fun and safe manner, even if that means coming in last!
Hey! 👋 Since
RISING EDGE
is brand new, I need your help! I'm working towards my goal of
100 subscribers
. If you enjoyed this article 🙌, please
forward it to a friend
that would also enjoy it, and
subscribe
to receive one email per week with our latest post.
It would mean the world
🙏
---