Although we're not quite to the racing off-season, GridLife has been hosting an iRacing sim racing league in which my friends and I have been participating. We're halfway through the four-week series, and each race has been a blast.
Just like GridLife festival tour weekends, each event has been broadcast and commentated by Kyle Heyer and his team. Even with a few minor technical glitches each week, the production value of the iRacing series stream easily surpasses that of most club racing organizations. I'm always impressed by Kyle's enthusiasm and knowledge and his ability to pick up on the best action on track. The rotation of broadcast co-hosts has been a strong addition. With infinite camera angles and in-car cameras, the stream offers even more than actual race broadcasts allow.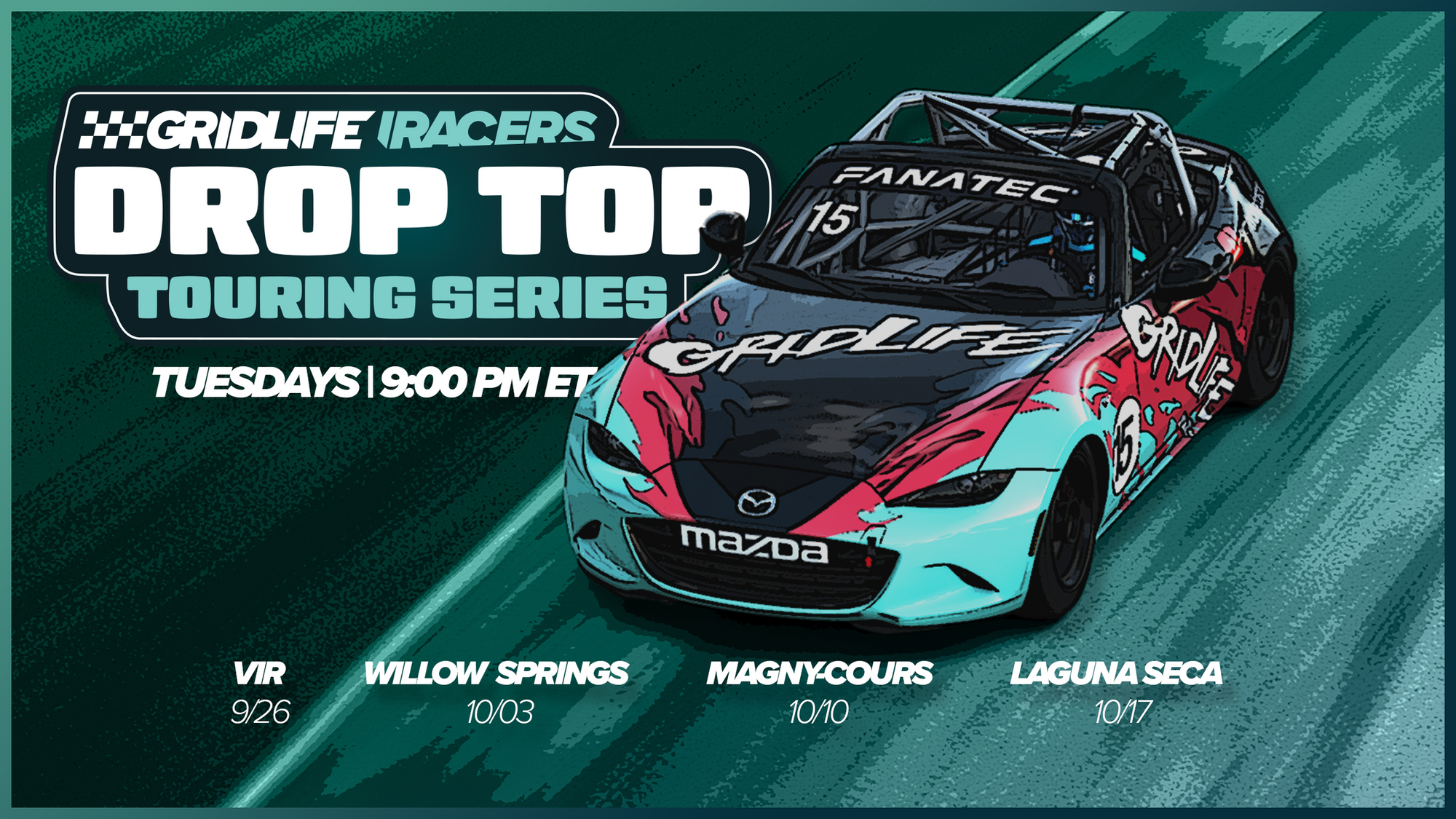 The race structure for each event is as follows:
62 Driver Limit
Qualifying - 10 min. - Solo
Heat Race 1 - 10 min. - Odd-qualifying drivers

Top 15 advance to the feature race, remainder to LCQ.

Heat Race 2 - 10 min. - Even-qualifying drivers

Top 15 advance to the feature race, remainder to LCQ.

Last Chance Qualifier - 10 min. - Remaining drivers

Top 10 from the LCQ advance to the feature race.

Feature Race - 20 min. - Top 15 from each heat + 10 from LCQ

The feature grid is by finishing position in the heat races. Heat 1 racers in the right lane, heat 2 racers in the left lane, LCQ racers in the bottom 10 positions (in finishing order).
Round 1: Virginia International Raceway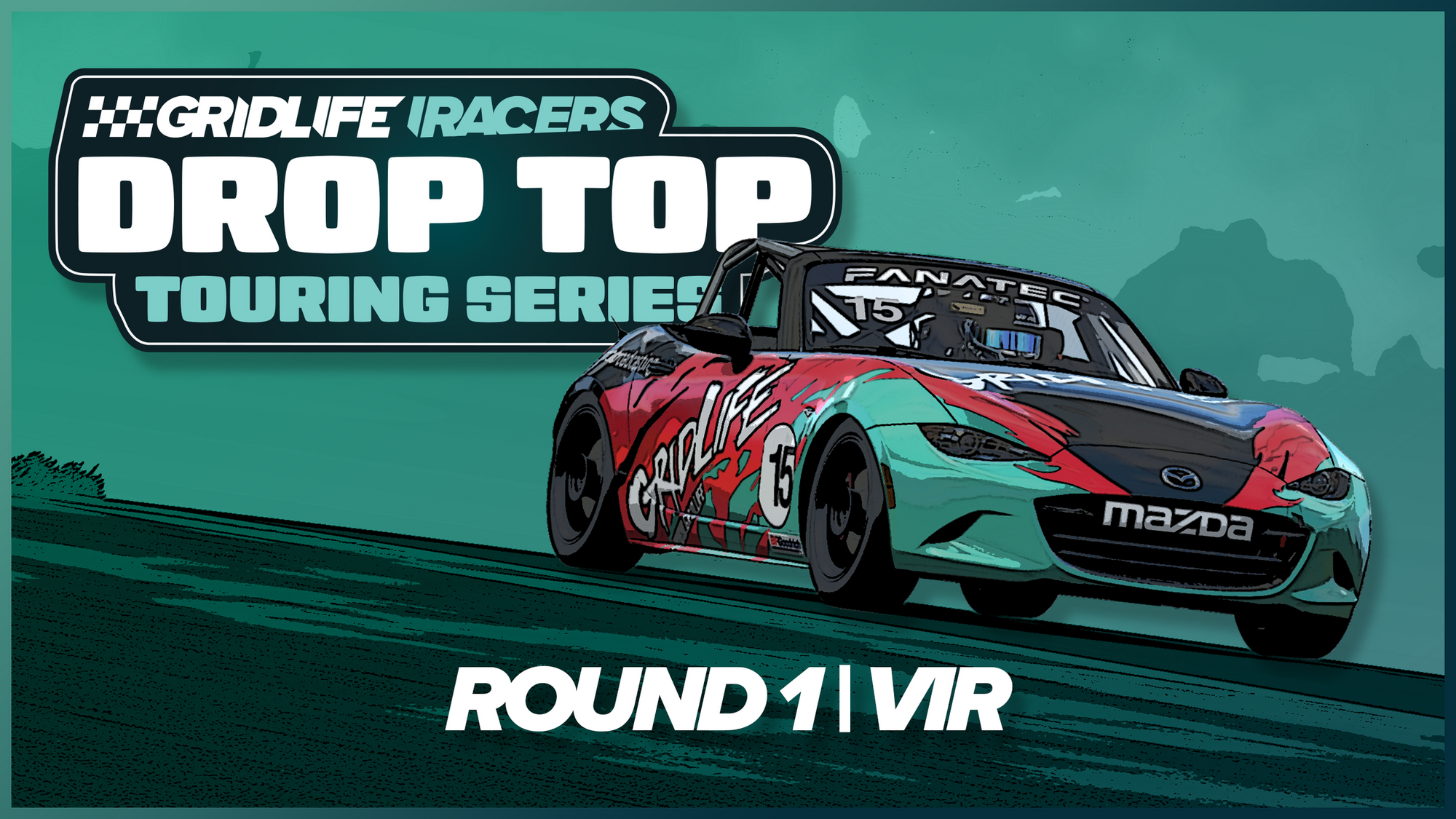 The first round brought us to VIR, a track that is geographically close to me but that I have not yet visited. This being my first race with GridLife iRacers, I didn't know what to expect outside of the schedule and race structure that was shared prior to the event.
I've driven VIR in the sim a bit, and it's a challenging track. It got a little easier recently when iRacing updated the grass traction model, making off-tracks a bit more forgiving than they were before. Before the update, going off in turns 14 or 17 would guarantee the end of your race.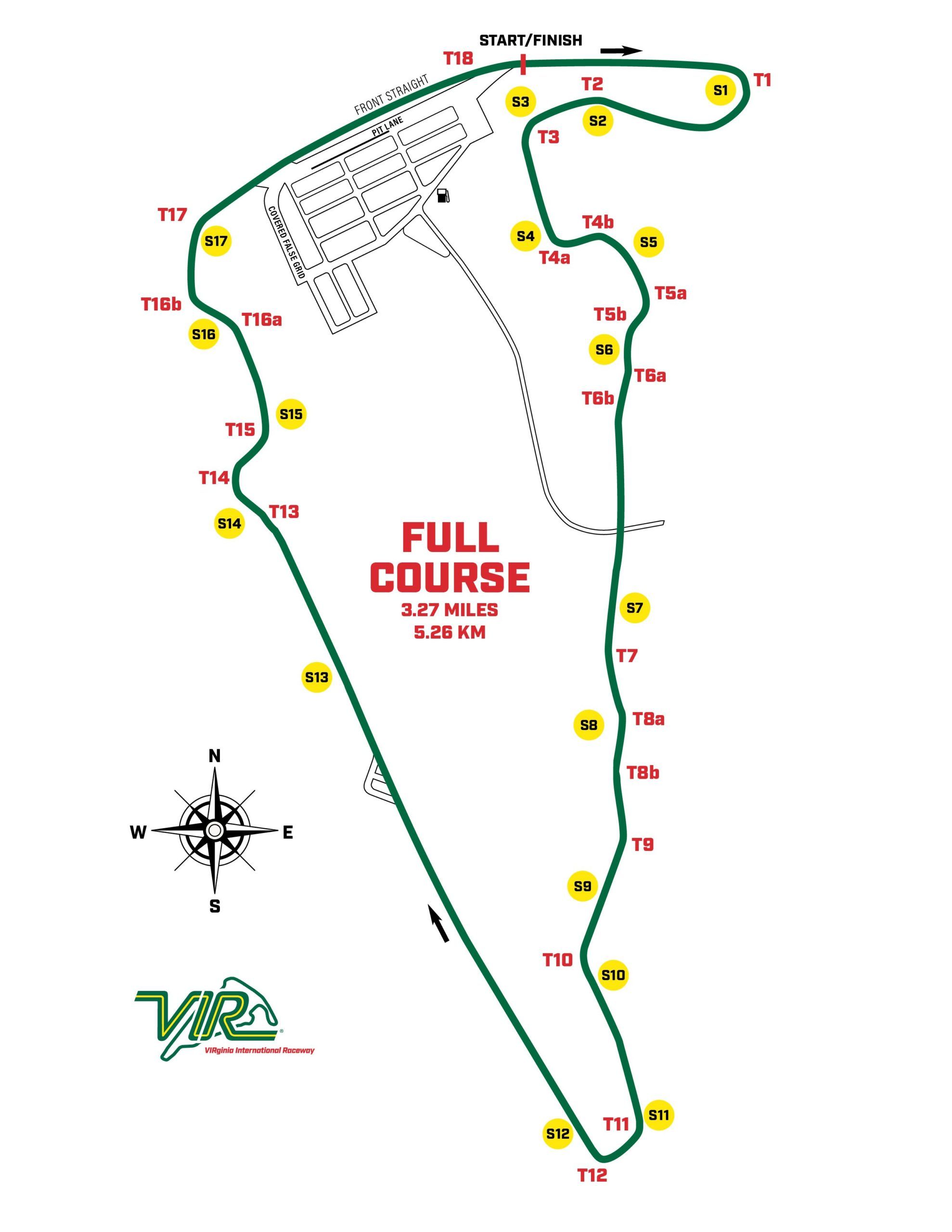 I almost missed out on the race. I joined about 10 minutes after the server went up, and it was almost full already. I spent most of the hour of open practice on the track. Despite my effort and being near my best lap time (without a draft), I was sitting smack dab in the middle of the 62-car field. Improving my time by 1/10th of a second on the last practice lap moved me up five positions to P25. That's how tight the field was in practice.
A little shaken by my relative lack of pace in practice, it was time to qualify. Both of my laps were clean, and my times stacked up pretty well. My laps were 2:08.49 followed up with 2:08.22. At the very last second, a couple of lap completions bumped me down from P8 to P10.
My P10 qualifying position put me in Heat 2, starting P5 (since the field was split between even and odd qualifier heats). My heat race was mostly uneventful, having moved up to P4 on the first lap but finishing where I started in P5 after holding off a charging Darian Taggart.
Viewing the VIR stream, my heat race starts around the 25:00 minute mark, and the feature race starts around the 56:00 minute mark.
Having finished P5 in my heat race, I started 5th in the left lane: P10 overall. Turn 1 brought a spin from P2 that collected several cars but luckily allowed me to tuck inside and move up to P5.
Most of my race was spent trying to hang towards the back of the lead back. After falling slightly behind, I tried working with a much faster Paul Darling to catch the leaders again. A mistake from Peter Zhang brought me back up to P5, about 1 second outside of the pack. Darling caught them earlier than I did, but luckily, the leaders started battling each other increasingly as the race clock wound down.
Battles in the lead pack on the penultimate lap allowed me to catch up. As we took the white flag with one lap to go, the top 5 cars were covered by a mere six-tenths of a second. I made it past Mac Korince in the first half of the lap, but with all five lead cars covered by under three-tenths of a second going through the esses, I decided to play it safe and backed out.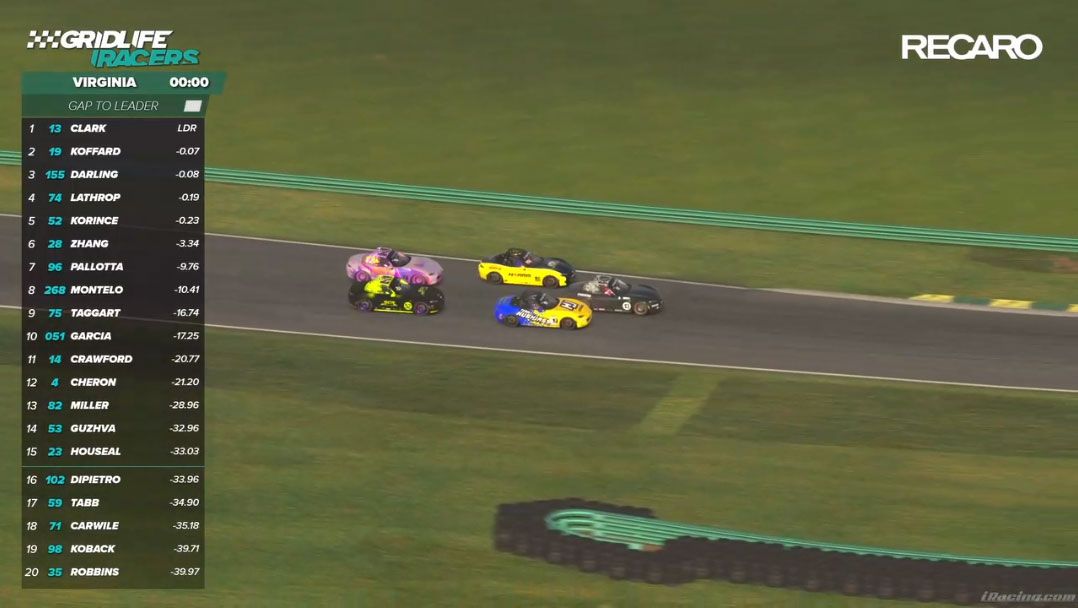 Rob Clark was able to check out in the second half of the lap. However, we still had four cars tightly battling for the remaining podium positions going into the last corner. Unfortunately, the grouping was so close that some cars had to check up in turn 16b. I tried to capitalize on this by hanging back and getting a better run through the inside.
I was able to get a better run. Unfortunately, although I felt I had achieved overlap with Mac Korince, he moved back inside to defend the line, and I pit-maneuvered him. What happened is not easily visible on the stream: you can see him spinning backward and getting hit by another car, but it doesn't show the clear cause of our contact. Upon reviewing the replay, I realized that I had not achieved overlap, and I should have backed out of it when he defended the line. Sorry again, Mac! I will learn from this mistake.
Ultimately, I finished P4 in an incredibly fun race. Still, it did ring hollow after hitting Mac Korince in the last corner.
Round 2: Willow Springs International Raceway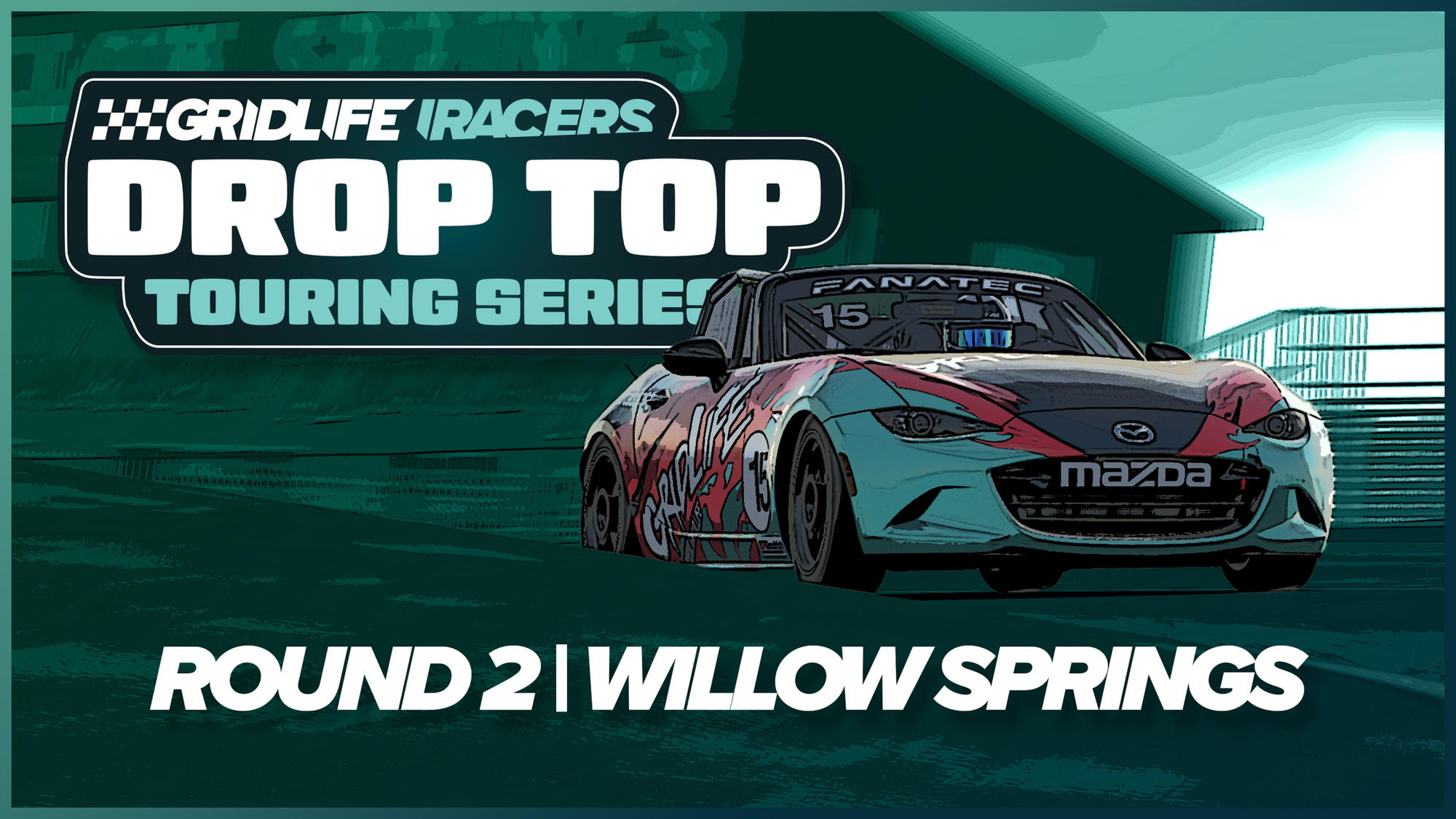 On Tuesday, round two took us to a track I had very little experience at: Big Willow. Though I spent a lot of time practicing the track leading up to the race, I knew my pace wouldn't be competitive compared to some of the other GridLife guys. Plus, a few top GLTC drivers showed up to this race that weren't racing at VIR, which was intimidating.
Qualifying went fine, but as I feared, I did not have the pace to be competitive. Even though I ran within a tenth or so of my best non-drafting time, it was only suitable for 18th position.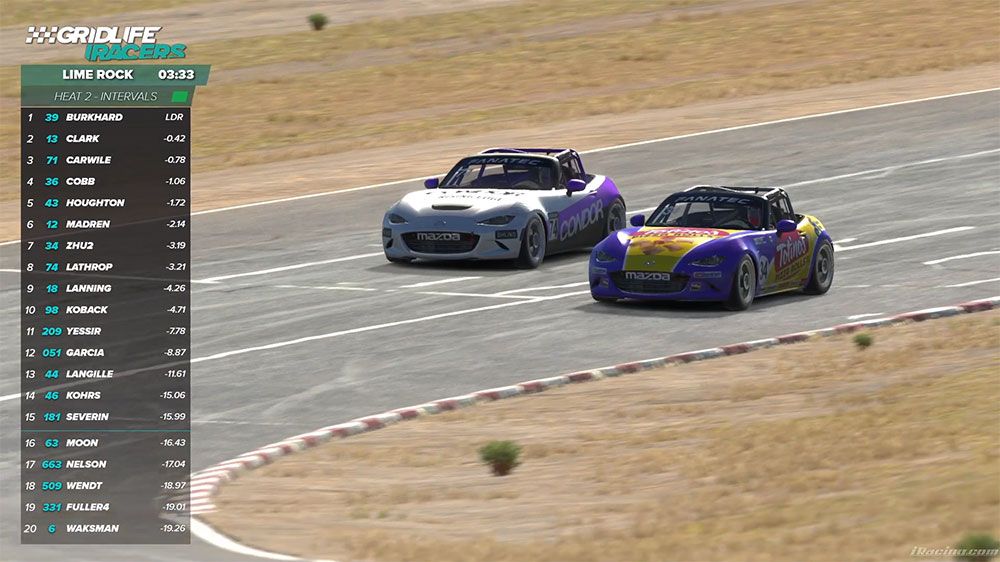 Rocking my new Condor Racing livery, it was time to do it By Reason or By Force, our team's motto. I didn't have much Force, so I went with Reason this time around.
In my heat race, I moved up from P9 to P6. It was a solid race with little drama. I did not have the pace to catch the lead pack, especially within a short five-lap run. Still, this was good enough for a P13 starting position in the feature race.
Viewing the Willow Springs stream, my heat race starts around the 23:45 minute mark, and the feature race starts around the 48:00 minute mark.
I wanted to repeat what I did at VIR by hanging onto the back of the lead pack. Alas, even though I got moved up from P13 to P6 on the first lap of the race, I was already well behind the lead pack.
I spent most of the race doing what I loath: leading the second pack. The draft is super strong at Willow Springs, but if you pick the right defensive lines, it is hard for a passing car to make it stick. Still, I spent an uncomfortable amount of time door-to-door with Andrew Lanning and Ken Houseal. Kudos for how clean the racing was despite being so incredibly close.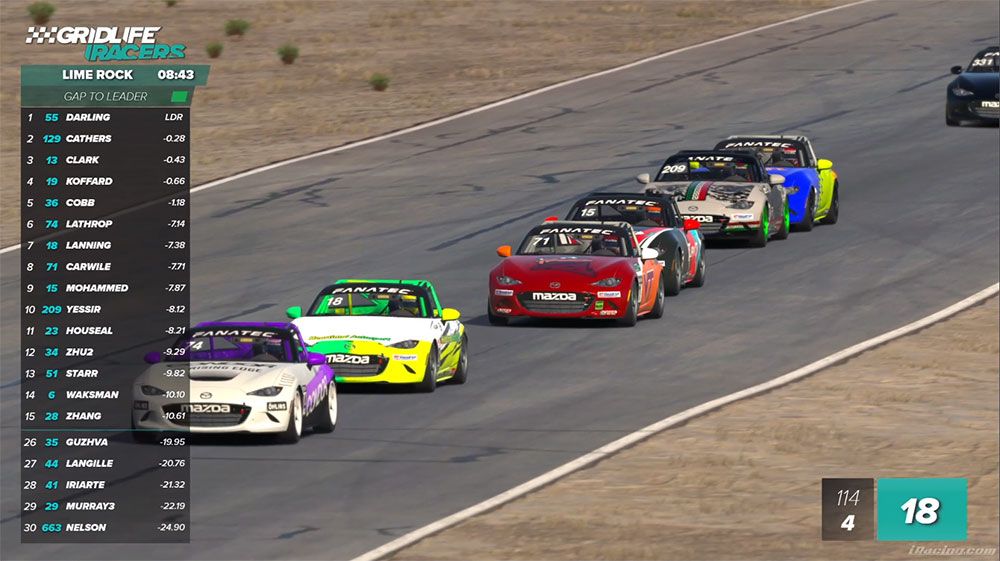 Although Houseal got past me on the penultimate lap, after taking the white flag, I crossed him going into turn 2 and tried to pass on the outside. I stayed with him well enough to have the inside going into turn 3, and was able to clear him as we climbed the hill.
Unfortunately for Houseal, a slight contact from Lanning mixed with some netcode sent Houseal flying into the fence and Lanning off the track. This allowed me to sigh with relief, as I did not have to battle for the remaining half of the lap.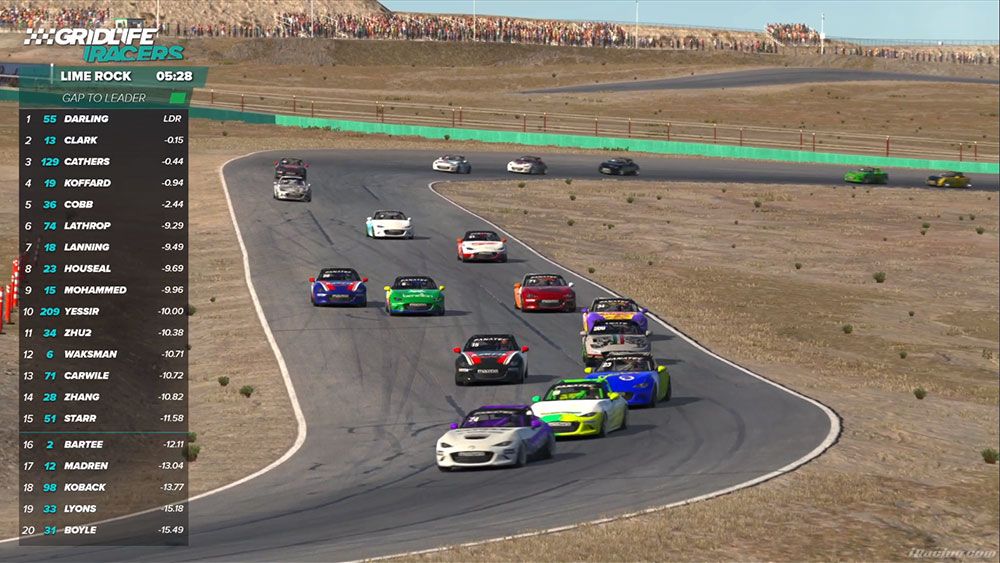 I crossed the line in 6th position, but Austin Cobb in P5 was messing around after the race was over, and an off-track ended up pushing him to disqualification based on incident points, which is why the results board shows me in P5 (incorrectly).
Rounds 3 and 4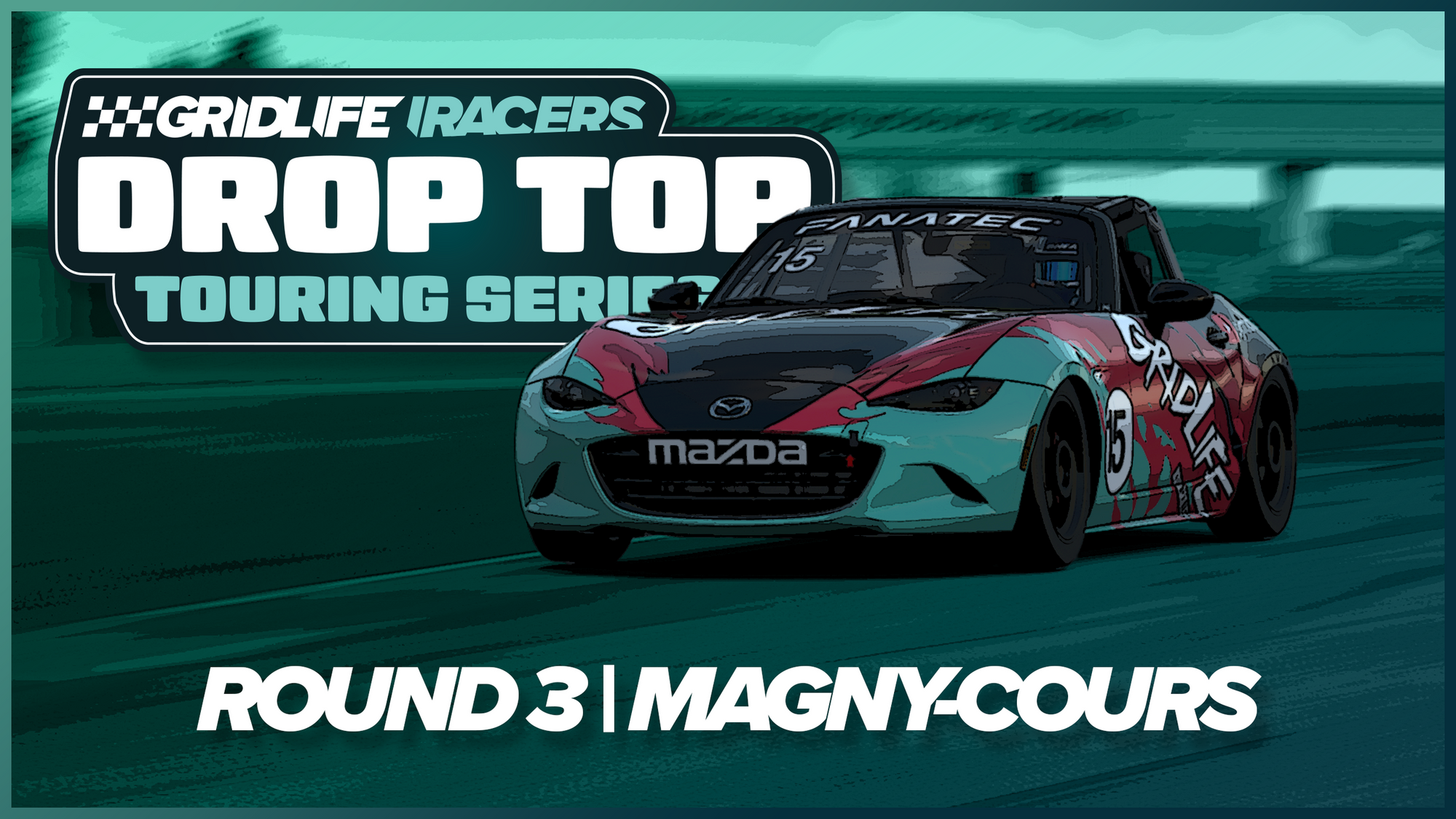 We still have two rounds to go in this series, and both of them will be streamed live on GridLife's Twitch channel. The action starts at 9 PM Eastern over the following two Tuesdays, October 10th and 17th.
Thank you to all the racers who have participated in this great series, to Kyle Heyer and his team for organizing and broadcasting the series so wonderfully, and big thanks to Raul, Nick, and Matt for helping me practice leading up to each race.