I wrapped up my first iRacing league series with GridLife a couple of weeks ago. For an intro to the series and how the first two rounds went, check out this post. For this season wrap-up, I'll touch quickly on how the last two races went, opting to later focus on what I learned from it.
Round 3: Circuit de Nevers Magny-Cours
This round brought me my best-yet qualifying result of P8, placing me P4 for my even-qualifier heat race. The heat race was mostly uneventful: I moved up one position, and my P3 finish meant I'd start the feature P6.
The feature race was an exciting one. I found myself asleep at the wheel at the start, and I missed the easy turn 1 apex, allowing a car to go down inside me for an easy pass. The car that passed me got sideways in turn 3, and our cars got locked up together, slowing the entire pack around us down. I emerged towards the front of a clearly defined second pack of about 14 (!) cars.
I ran in the range of P7 to P5 for much of the race. Due to some attrition and mistakes within the lead pack, I found myself in P3 with 2 laps remaining in the race. P4 and P5 were very close behind me, and both were drivers that I regarded to be faster than myself.
Nerves started to set in, but I held it together for 1 3/4 of those remaining two laps.
Unfortunately, I fell for an inside-fake with 3 corners to go, and I blew the braking zone for turn 14, allowing a couple of cars by me easily. I rejoined the track poorly and got hit by another competitor, spinning me around. After gathering the car up, I limped home to a P8 finish.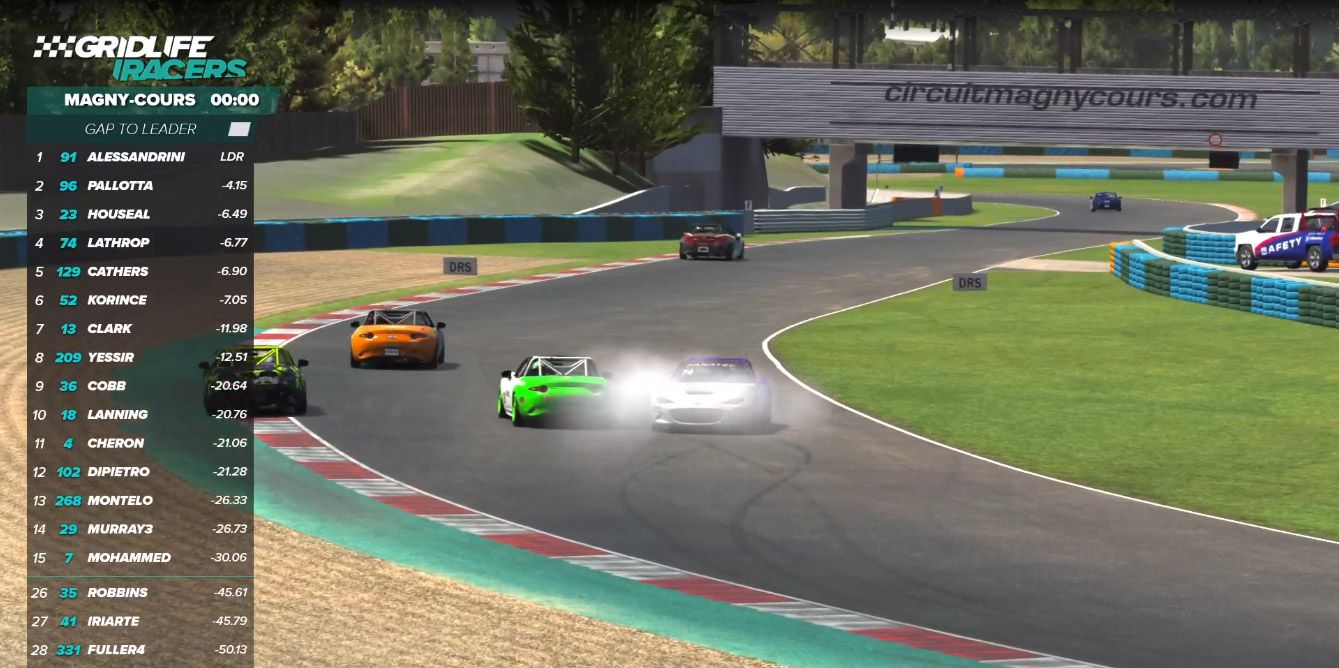 Round 4: WeatherTech Raceway Laguna Seca
We're going to keep this one short. I qualified 16th, and started my heat race P8. My heat race went well, and I moved up to P3 by the end.
Starting P6 in the feature race again, I found my focus to be lacking on the first lap, and I made an unforced error in turn 4, leading to an unrecoverable spin. I hit the wall and had to tow the car, essentially ending my race.
On the bright side, I left the pit on the second lap about 8 seconds ahead of the lead pack (they were coming up to lap me), and I was able to keep them behind and finish on the lead lap. I finished a disappointing P30 out of 39 cars.
My Final Series Results
Round 1 VIR: P4
Round 2 Willow: P5
Round 3 Magny: P8
Round 4 Laguna: P30
My Takeaways & What I Learned
Setup Is Important
Even though I've always preferred to race "open setup" races on iRacing (versus "fixed setup," where no changes can be made to the car), I have not messed with my Global MX5 setup much over the past year.
The tight competition in the GridLife iRacers series had me messing with my setup a lot more, and boy did it make a huge difference. I was even making changes in between heats to adapt to different track states and weather conditions.
This new habit has stuck around, and now I am never content with the car that I have. Each time I hit the pit, I make a change to see if I can improve the car.
With how easy it is to make changes and then test the effect in iRacing, this will help me develop my race engineering skills for the benefit of myself and the few others who seek my setup advice.
I Peaked Too Early
In round one, I didn't have much expectation, and I drove safely with a level head. Having two top 5 finishes to start the series gave me more expectation and thus pressure to perform. I caved to pressure in round 3 in what could have been a podium finish, and I straight-up blew it in round 4.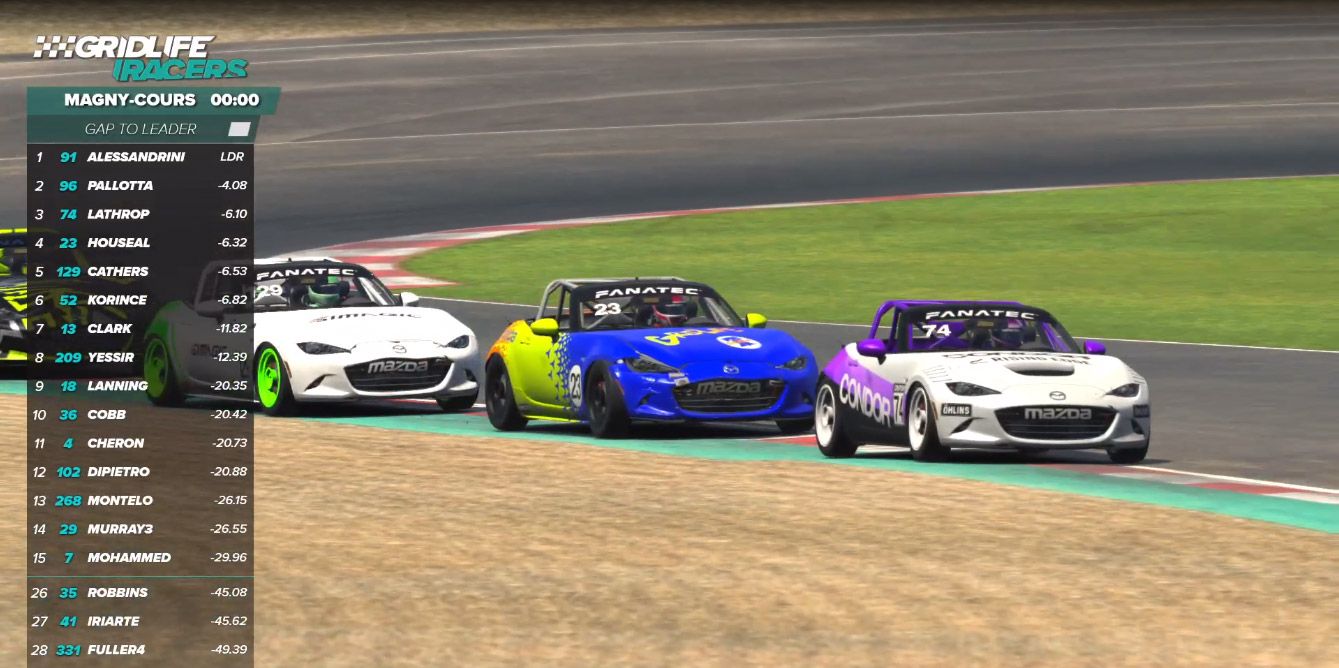 The Top ~10 Is Very Competitive
Just like GLTC, in fields of 40+ cars, there was a clear skill gap within the field. The top 5 to 10 cars were very skilled and clearly in a league of their own. That said, there was plenty of mid-pack and back-pack competition, so the racing was fun at all different skill levels and paces.
I Struggled With Focus
Racing started about 9 PM Eastern time, and the feature race was around 10 PM. That is fairly late for me to be racing, and certainly not when I'm feeling my sharpest. For most of the races, I also stayed up really late the night before practicing, so the added drowsiness certainly didn't help.
I felt it the most at the last round (Laguna Seca). I just wasn't mentally in it when the feature race started, and that led to me not completing the first lap.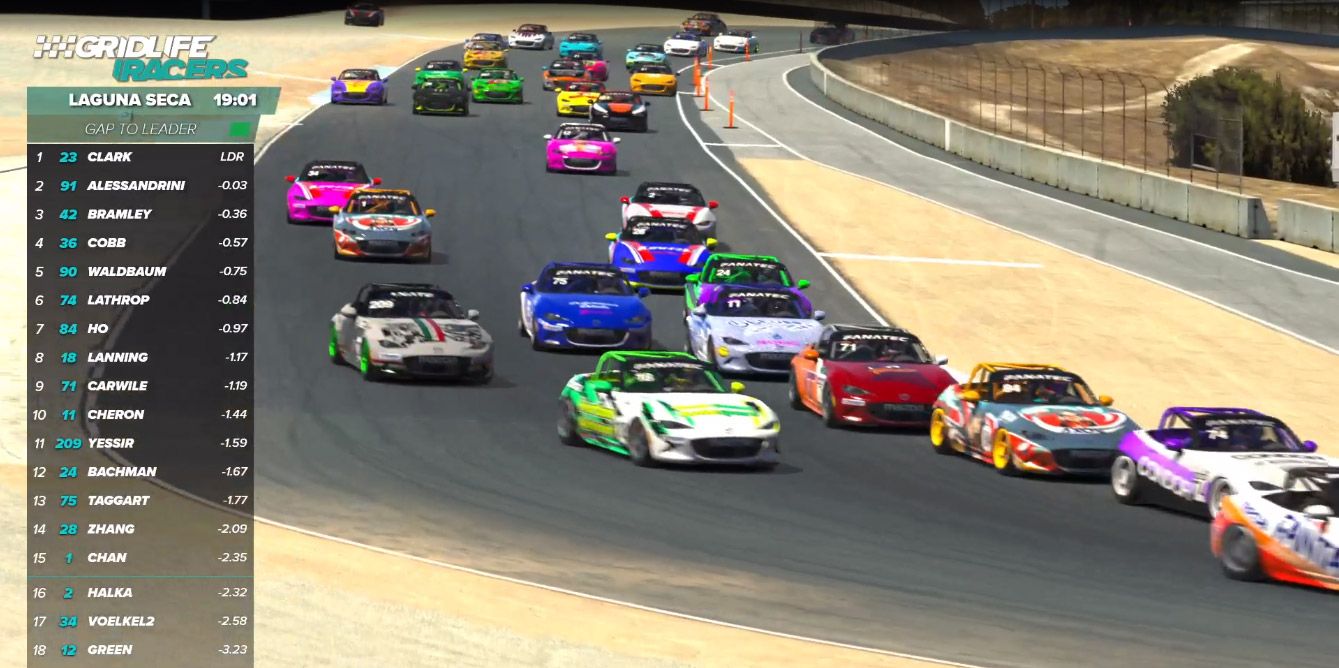 I'm well aware that the same focus and energy considerations apply to my real-life racing. I try to be extra mindful of my sleep, food, and drink habits around a race weekend, but despite my best intentions, I'm not always good about that.
I truly believe that physical and mental fitness is just as important as driving skill or having a well-setup and competitive car. These are topics that I would like to explore more on RISING EDGE in the future.
---
The Drop Top Touring Series has ended, and so has the GridLife event season for 2023. GridLife has teased that they will be doing more iRacing series this winter, and I'm really looking forward to racing in the next one.