At the end of the 2021 season, I was considering moving my #74 E30 down from TT5 to TT6, in the hopes of making the car more competitive. My car never fit into TT5 very well: it has always kind of lingered between classes 5 and 6, which at the time were 14:1 and 18:1 classes.
I had just finished putting a new head & cam on my M20B25, and I knew that I had to go back to the dyno in case the power level had changed in the process.
The first issue I faced with classing down was that I wasn't able to make it to the dyno until 2 weeks before the first event, and the car made more power than I was expecting it to. The second issue was that NASA had just announced that TT6 was moving from 18:1 down to 19:1 for the allowed power to weight ratio.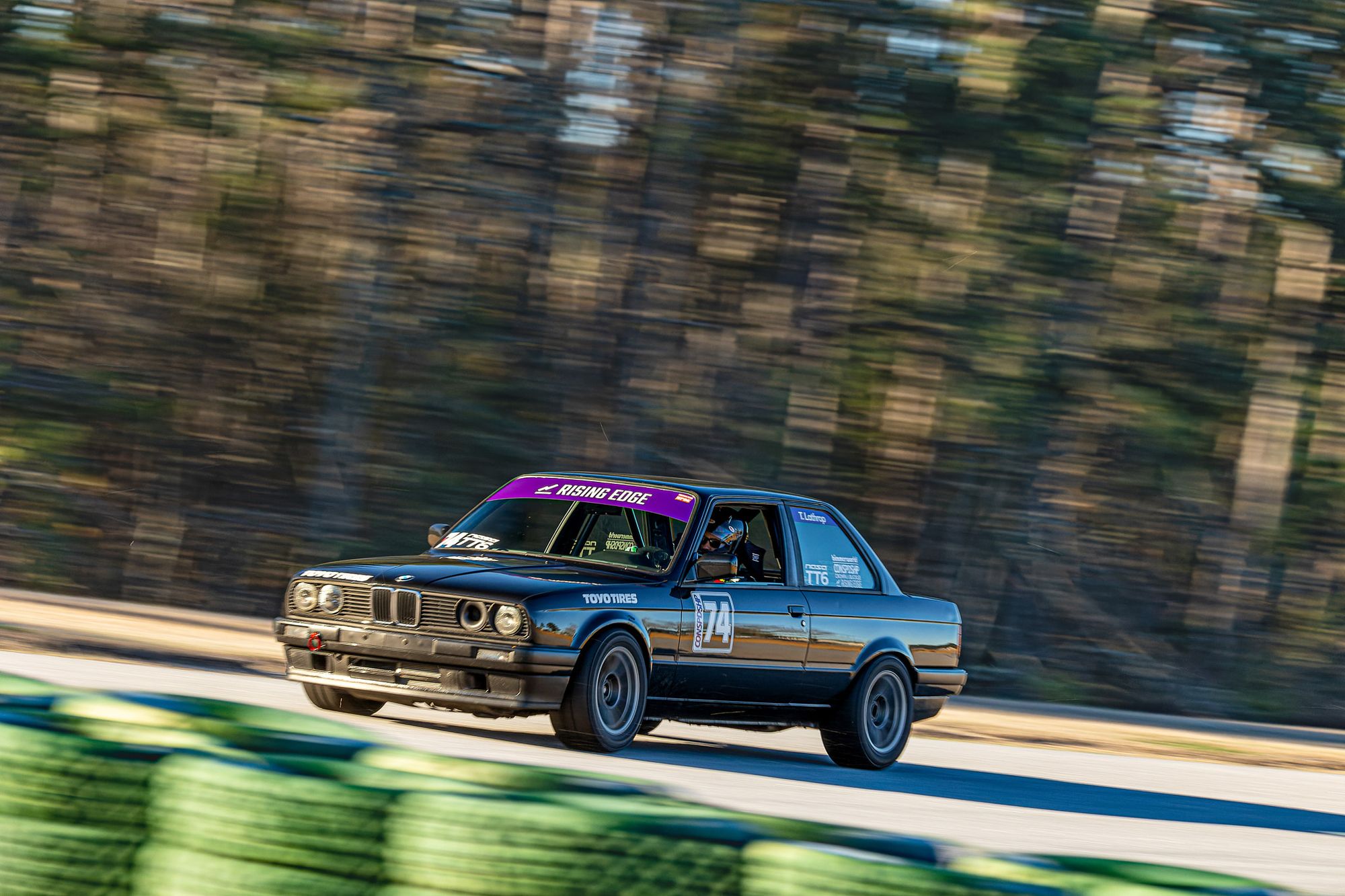 Without the time to de-tune the car, I scrapped the plan and pressed forward for another season in TT5, where I'd continue to be a mid-fielder, at best.
After making some personal improvements throughout the season, but making no progress in actual competitiveness, I again looked at what it would take to class down to TT6 in the fall of 2022.
Too lazy to de-tune my car, I decided to simply "ballast up" and add a bunch of weight to make the car legal. NASA allows for up to 300lbs of ballast, and I needed the better part of that. I ended up adding 245lbs of iron to the car, plus about 1/2 a tank more fuel load.
By switching all the body work back to stock (BTM), I was able to claim basically every positive modifier for the class, such as +1.6 for running Toyo RR, +0.4 for BTM, +0.3 for a mechanical throttle body, and +0.3 for running tires that fit under the 257mm-wide template (with a competition weight above 2749lbs).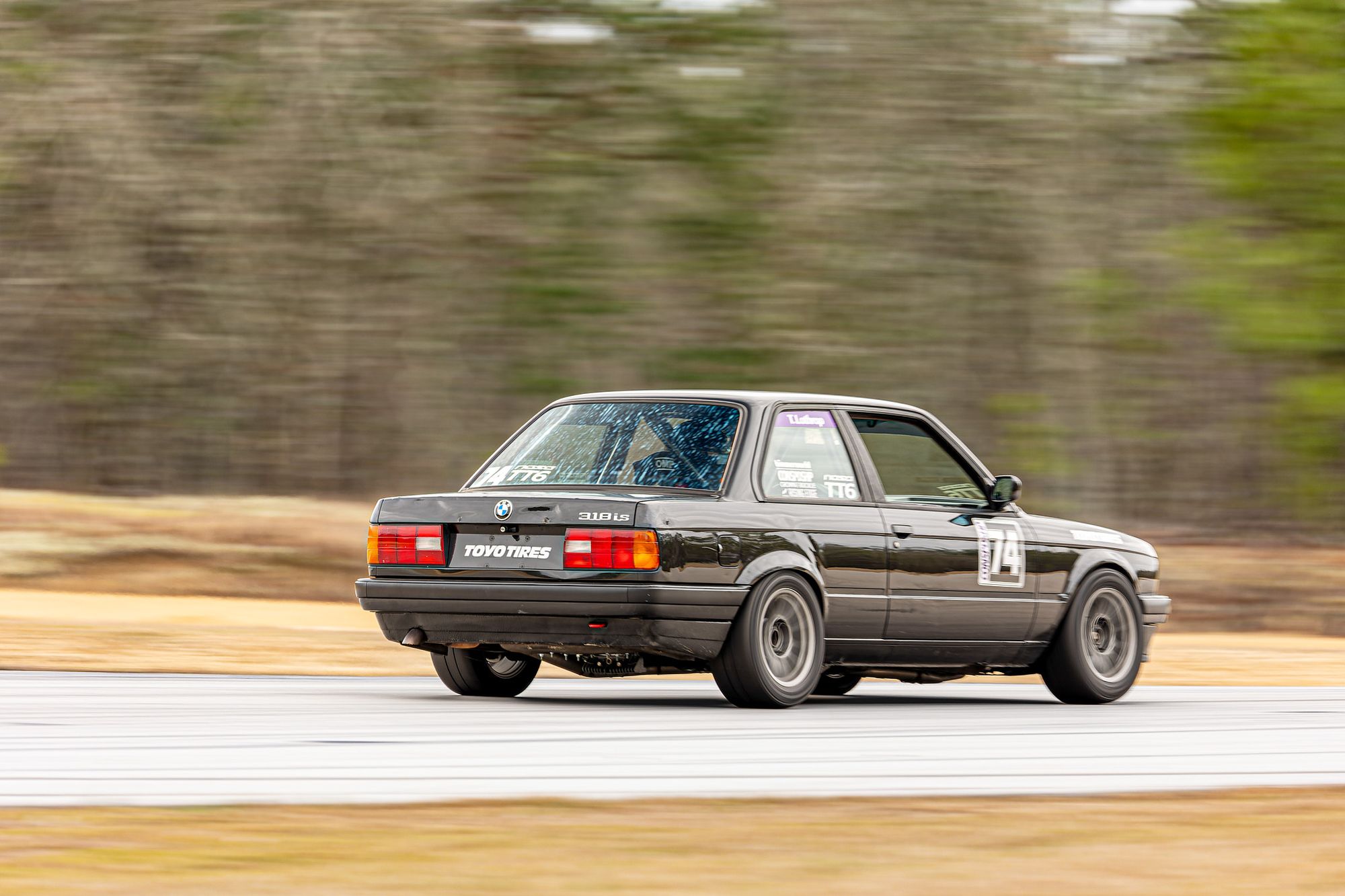 I searched the national database for ST/TT6 cars, and a large majority of them are Mazda Miatas in the range of 140whp/2400lbs. There were a few Spec E30s in there, those being around 155whp/2710lbs.
My porker came in at a minimum competition weight of 2839lbs with a 171whp average. Of course I also still had to run the same 225/50-15 Toyo RR tires that I was running before, because I can't really fit anything wider than that in the stock E30 fenders [f*ck over-fenders].
Everybody that I talked to about the setup had no idea how it would class up against the myriad of Miatas I'd be competing against, but since everything that I did to convert the car was easy to undo, it was worth a try!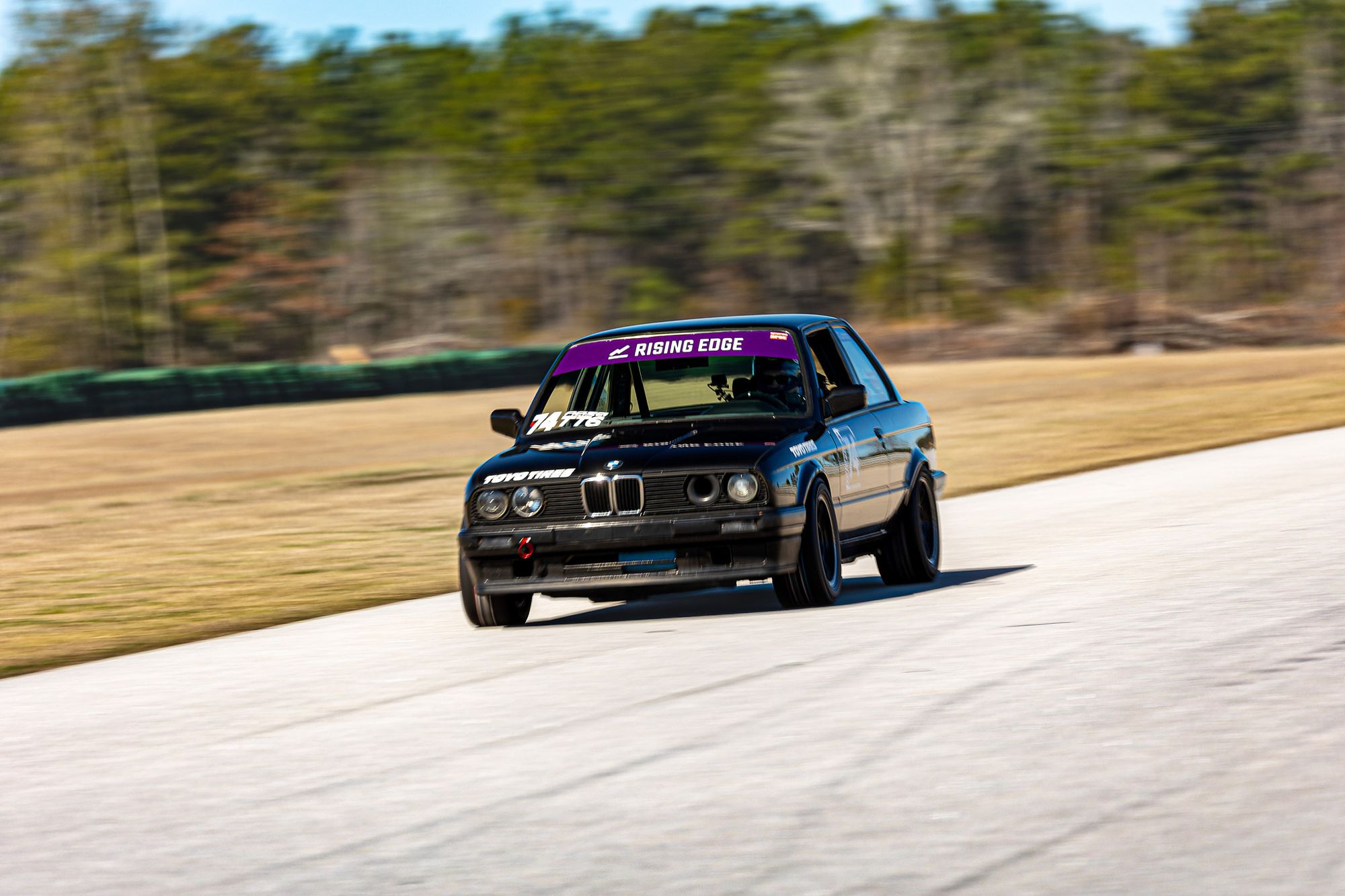 So far I've done 3 events equalling 6 time trial race days with the new setup, and it has worked out surprisingly well. In those 6 race days, I've had four 1st place finishes, and two 2nd place finishes. I've broken 2 track records, although one of those only stood for 2 hours. The field sizes have been between 5 and 13, and the podium positions have generally been well-contested.
The second place finishes both came at Roebling Road, and they were by very narrow margins. On both days, Nish Patel edged me out by 0.15 and 0.03 seconds, respectively. We were both on old tires.
The wins have been by close margins as well. At Carolina Motorsports Park two weeks ago, I edged out Nish by about 1 second each day. The lap times are longer there, and I was running sticker [new] tires versus Nish being on 25+ heat cycle tires. Given that, still a very close result.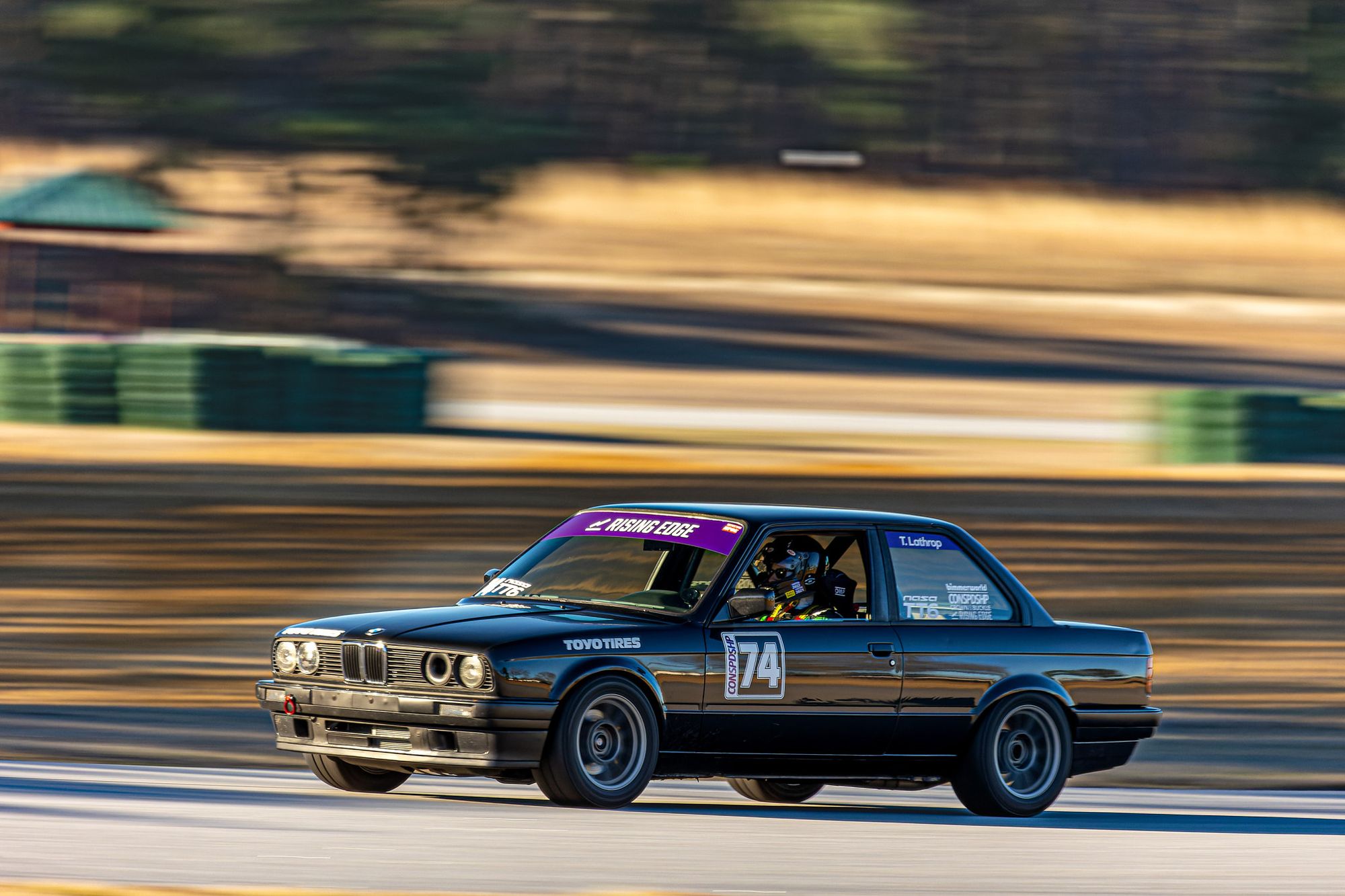 Within the Miata camp there are differing philosophies that end up with similar competitive results. Some of the cars run a wing, which is a big hit in power or weight for TT6, while others run the car lighter (or higher power) and claim BTM. I think the variance of these builds resulting in near-parity on track is a testament to the balance of NASA's power to weight classification method.
The Miatas, particularly the ones with a rear wing, shine at Roebling Road. The track is basically nothing but high speed sweepers, and the extra cornering speed that they can confidently maintain helps them more. At a track like Road Atlanta, with a super long straight away, my car should have an advantage.
For average tracks like Carolina Motorsports Park, it's a grey area. At CMP, Nish could certainly out-brake me, and he could carry several miles per hour more through basically every corner on the track. That said, when I was following him on track, I could see clearly that my car pulled out of the corners harder than his. NASA doesn't consider torque in the power to weight classes, and while my car has more horsepower than the Miatas, it also has even more torque over them.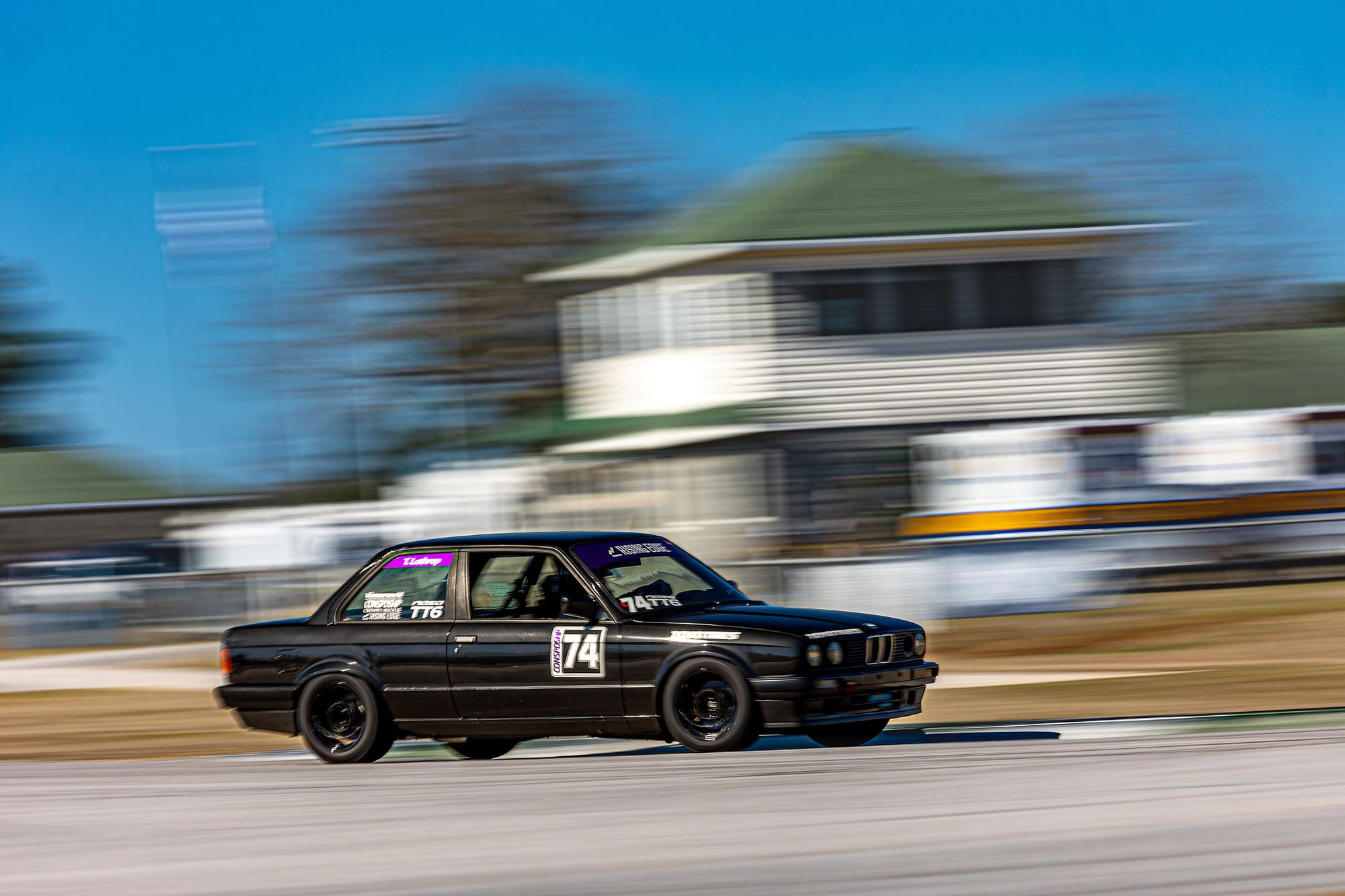 For the 2023 season, Miatas received several small bumps in competitive potential through rule changes. The double A-arm penalty they take was reduced from -0.7 to -0.5, the "drop floor" penalty of -0.2 was removed, and the benefit for a mechanical throttle body was increased from +0.2 to +0.3. That means Miatas had a net benefit of +0.5, but since E30s also got the +0.1 bump for the throttle body, they gained +0.4 against my E30.
That's the same as bonus as being able to claim BTM, and equal to roughly 4whp average, or around 55lbs of ballast. It's not a lot, but it's not nothing either. This season is going to be a fun one.
Three events in, and I'm ready to state that my setup has worked better than I expected it to. The car feels great. You can certainly feel the weight – 2,839lbs make the 225 Toyos beg for mercy. On the other hand, the car is more balanced than ever, it's driving like a dream, and I've been having a blast.
---
CMP Track Record
February's NASA event was at Carolina Motorsports Park, and I was able to re-set the track record on both days. The previous record of 1:49.035 was held by Will Benson, set in November 2021.
On Saturday I was able to set a time of 1:48.517, while on the "sticker session" of my new tires.
On Sunday I was able to best it again with a time of 1:48.335, on the third heat cycle of the tires.
The times were close enough that I made a video to compare both laps. Quite honestly, it's hard to pick out any major differences in the laps. The Sunday morning session was colder, and I didn't have to make a pass in the last corner that lead to a sub-optimal line.
On Saturday's lap (the top and slower one), I was actually ahead by maybe half a car length through turn 5. It looks like I got ahead of Sunday's lap around the "kink" (turn 10), and got ahead by more than a car length in the last three corners alone. And that, in the end, was worth 2 tenths of a second.
Enjoy the video and as always, thanks for reading!
---